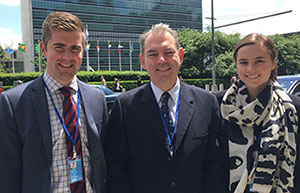 UQ Law Students, Sidney Sneddon and Samuel Bullen, and Senior Law Lecturer Dr Alan Davidson recently attended the week-long UN Commission on International Trade Law's working group session on electronic commerce.
Dr Davidson has been a regular delegate and participant at the UN since 2011, and is part an independent committee working to increase Australian participation at the United Nations.
Dr Davidson, an electronic commerce law expert, said "Participation in drafting new laws at the UN helps provide an excellent international profile and places Australian experts at the cutting edge of law reform"
"UQ Law School places a high priority in providing students with real world experiences at significant bodies such as the UN."
Ms Sneddon and Mr Bullen were chosen from a group of 12 high-achieving law students to attend as observers for the working group session.
"This trip was an exciting opportunity and I believe it will provided me with invaluable experience in the area of international trade law." said Mr Bullen.
Dr Davidson is the author of The Law of Electronic Commerce and is about to publish a new book, Social Media and Electronic Commerce Law. He is a member of the United Nations Commission on International Trade Law <www.uncitral.org/uncitral/index.html> National Coordination Committee for Australia.
Media: Dr Alan Davidson, (07) 3365 2294, a.davidson@law.uq.edu.au, or Publications Officer Nadine Davidson-Wall (07) 3346 9263, n.davidson-wall@law.uq.edu.au.