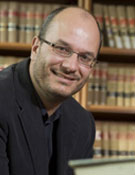 UQ Law Professor Aroney will deliver a paper on the topic of the 'Amendment and Reform of Federal Constitutions' this week at the Yale Law School Conference Thinking about Federalism(s) beyond the US experience. The conference brings together federalism scholars from around the world, including Canada, Australia, Germany, Denmark, Scotland, England, Spain and Belgium. It will also involve scholars from several leading American universities, including Yale, Harvard, New York, Columbia, Michigan, Berkeley, Vanderbilt and Northwestern.
Professor Aroney's paper will draw on comparative research undertaken as part of his Future Fellowship funded by the Australian Research Council. The paper will argue that the United States Constitution, although one of the first federal constitutions in the world, needs to be understood in the context of a wider theory of federalism developed through comparative study of other federal systems. This theory suggests that there is a systemic relationship between the formation of federal constitutions and the mechanisms they establish for their own amendment. By comparing the formative processes by which federal constitutions come into being and the amendment clauses they adopt, much light can be shed on the characteristics of particular federal systems, the American Constitution included.
The conference was jointly organised by the Yale Law School with support from the Oscar Ruebhausen Fund, by the L'Institut Michel Villey at the University of Paris (Panthéon-Assas), The University of Queensland Law School, and the University of Montreal Law School.
Professor Aroney is a recipient of the Australian Research Council's Future Fellowship scheme (project number FT100100469)