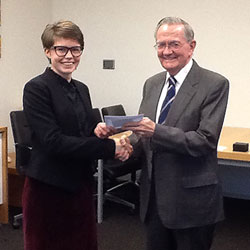 The University of Queensland law graduate, Ailsa McKeon was awarded the Australian Academy of Law inaugural Annual Essay Prize at an informal ceremony held at the Queensland Court of Appeal on Wednesday 28th October.
The president of the Academy, the Hon Kevin Edmund Lindgren AM QC, presented the $10,000 cash prize.
Comments by the Judging Panel included the following:
"The author made practical suggestions on how Australia might improve the education of our lawyers through closer cooperation between academia, the practsing profession and the courts, including:
greater emphasis on critical thinking and problem solving skills;
greater engagement of students with courts and tribunals;
better engagement between lawyers in community legal centres and those in firms."
The author argued that there needs to be a closer linkage between those two groups of lawyers in the interests of a "just and democratic society"
The author made a strong case for increased emphasis on professional ethics and on critical thinking and problem-solving skills.
She made the telling point that "legal ethics are not simply tools of trade: they are "a framework and foundation of the law""