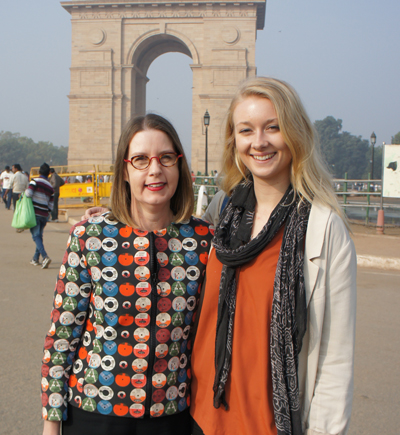 Zoe Brereton, an undergraduate at UQ Law and New Colombo Plan Fellow, was recently published in the International Journal of Comparative and Applied Criminal Justice, with the article 'Perpetuating myths of women as false complainants in rape cases in India: culture versus the law'. The work is noteworthy for highlighting the need for rigorous empirical research on family and sexual violence in India.
Ms Brereton describes how 19th-century colonial views of justice still influence how the law is practised, despite being written very differently in the books. According to Ms Brereton, the problem stems from the wider Indian society viewing female rape complainants as inherently distrustful, and of having ulterior motives.
Successful prosecutions are rare. Often, the best a complainant can hope for is that legal action prompts the accused to offer a compromise. For example, in cases of family violence, a compromise of returning the marriage dowry and agreeing to separate. However, such compromise would not result in justice at trial, despite laws criminalising rape.  
Ms Brereton claims the problem, unfortunately, is systemic. Courts have dismissed cases that do not conform to a few select narratives, such as drink spiking. This also creates an incentive for police to alter rape testimony to conform to an accepted narrative. When such alterations are uncovered at trial, they only reinforce perceptions that rape complainants tell lies, and serve as further fuel for opinionated media commentary.
India has made efforts to effect change, however. Justice Gita Mittal of the High Court of New Delhi, recognising the problem, established the first vulnerable witness centres, where rape complainants under 18 can discuss their testimony with trained officers, without pressure to conform to a pre-selected narrative. Other initiatives, such as dedicated domestic violence courts, are also underway.
Professor Simon Bronitt, Deputy Head of School, recently travelled to India with Ms Brereton to attend the LASSNet Conference. According to Professor Bronitt, "to undertake significant research, with real world impact, is one of the wonderful opportunities of this program in India. Zoe is a trailblazer for gender justice, and to see her work translated into an international article is the 'icing on the cake'!".
Ms Brereton was chosen as the New Colombo Plan Fellow to India in 2014. During her time in New Delhi, she interviewed women, their families and police, giving her work an empirical base and paving the way for future research. She also presented at several international workshops. We're sure that the efforts of one of our most intrepid young scholars will continue to shine light on this important area.