The Ministry of Justice of Austria commissioned UQ law Professor Andreas Schloenhardt – also a Professorial Research Fellow at the University of Vienna, to prepare a full translation of all 324 provisions of the Austrian Criminal Code.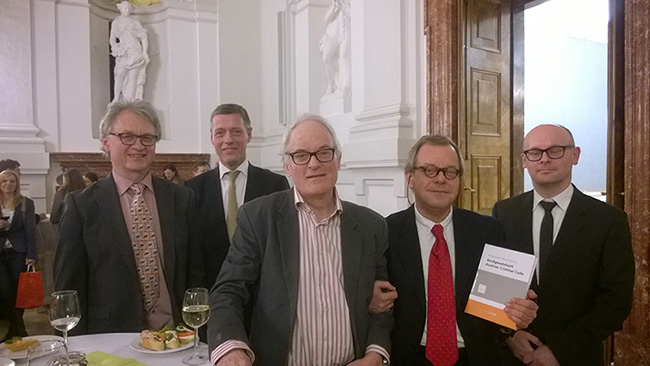 Together with Professor Frank Höpfel, Dr Andrea Lehner, and Messrs Johannes Eder and Lukas Eschlböck of the Institute of Criminal Law and Criminology at the University of Vienna and UQ PhD candidate Xavier Goffinet, Professor Schloenhardt completed the translation over a 15-month period.
Earlier this month at the Austrian Ministry of Justice, Mr Christian Pilnacek, Head of the Criminal Law Section presented the first complete translation of the Austrian Criminal Code, written by Professor Schloenhardt.
"One of the triggers for this project", says Professor Schloenhardt, "was the Criminal Code Reform Act of 2015. This Act amended large parts of Austria's Criminal Code which was first introduced in 1975. In today's globalised world, the particular need for an English language translation of Austrian criminal law is self-evident", adds Professor Schloenhardt", especially in cases involving extradition and mutual legal assistance in criminal matters."
In his remarks, Professor Höpfel further emphasised the growing demand for a translation of this kind: "On the one hand, this translation serves to make Austrian criminal law more accessible to officials, lawyers, and other practitioners in common law systems; on the other hand, it serves academia and researchers engaged in comparative criminal law and in the growing field of international and European criminal law."
The event at the Ministry of Justice's Palais Trauston in Vienna was also attended by the new Australian Ambassador to Austria HE Dr Brendon Hammer, the former Austrian Ambassador to Australia HE Dr Helmut Böck, together with the Chief Justice of the Supreme Court of Austria, the Procurator-General of Austria, and the Director of Public Prosecutions of Liechtenstein.
UQ's School of Law maintains a very extensive relationship with the University of Vienna Faculty of Law involving academic staff, postgraduate and undergraduate students.
For further information, please contact Professor Andreas Schloenhardt at a.schloenhardt@uq.edu.au.