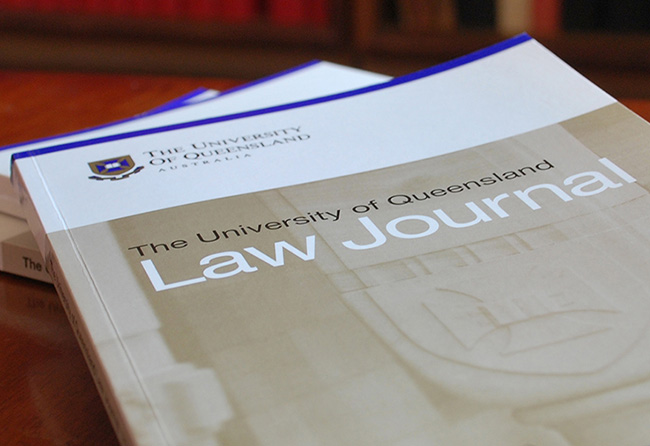 A same-sex marriage plebiscite could undermine representative democracy and the central role it gives to Parliament to create laws, according to an article published in the latest edition of the University of Queensland Law Journal.
The Australian Government's proposed same-sex marriage plebiscite was a hot-button issue for over a year before it was defeated in the Senate in November 2016.
Many marriage equality advocates rejected the plebiscite, believing the public debate would be damaging to the LGBTIQ community, while plebiscite supporters saw it as Australia's only opportunity to legalise same-sex marriage in lieu of a free vote in Parliament.
However, an article written by journal contributor The Hon. Michael Kirby AC CMG offers another lesser heard take on the controversial issue.
Mr Kirby's article was published in honour of the centenary of the birth of Sir Harry Gibbs, former Chief Justice of the High Court.
He examines how Mr Gibbs might have viewed the plebiscite, given his strong preference for following procedure and maintaining integrity in his decisions.
Through Mr Gibbs' eyes, Mr Kirby argues that because a plebiscite is constitutionally unnecessary (with the power to create a law for same-sex marriage resting in the hands of the Federal Government), it could set a bad precedent for Parliament avoiding its correct law-making functions for contentious issues.
Another article by UQ TC Beirne School of Law Associate Professor Lee Aitken examines the R v Baden-Clay case and the High Court's decision to restore Gerard Baden-Clay's murder conviction after it was downgraded to manslaughter by the Queensland Court of Appeal. Professor Aitken explores the consequences this finding has for future criminal trials. 
Journal Editor and UQ TC Beirne School of Law Garrick Professor in Law Professor James Allan said the journal consistently provides readers with a variety of legal perspectives from different areas of law.
"This is another excellent edition of The University of Queensland Law Journal," he said.
"Articles range from an in-depth look at John Finnis' time in Adelaide through to former Justice of the High Court Michael Kirby looking at issues of high constitutional importance."
Established in 1948, The University of Queensland Law Journal is one of Australia's premier law periodicals and arguably the oldest university law journal in Australia.
The journal, published twice a year, aims to make an original contribution to different fields of law, including all areas of domestic, international and comparative law, as well as jurisprudence, legal history and the intersection of law with other disciplines.
Thirteen leading law academics from around the world contributed to the latest edition (Vol 35 No 2, 2016), available now.
To purchase the current or previous editions, contact Trish Westacott at UQ Press. To subscribe to the journal, contact Rosemary Chay.