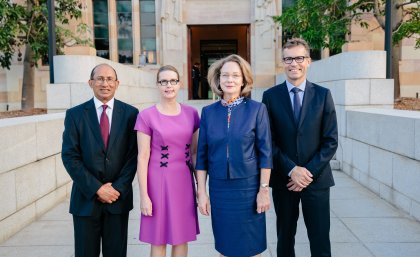 The $35 million renovation of a Brisbane icon – The University of Queensland's Forgan Smith building – has been officially opened by The Honourable Susan Kiefel AC, Chief Justice of the High Court of Australia.
The west wing renovation provides the TC Beirne School of Law with state-of-the-art facilities to support the school's strengthened focus on collaborative, interactive and innovative learning.
Chief Justice Kiefel received a Doctor of Laws honoris causa from UQ in 2009.
Last night she told more than 200 guests - including philanthropists, alumni and members of the legal fraternity - that law schools must strive to provide contemporary learning experiences for their students.
The full text of the Chief Justice's speech can be read here.