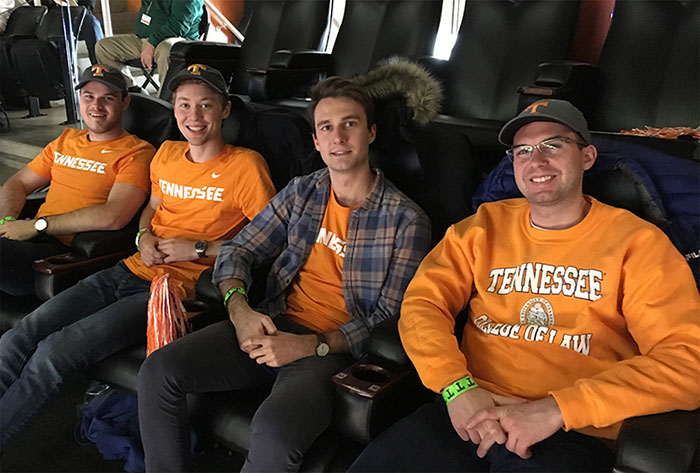 This summer, six UQ law students travelled to Tennessee for an opportunity to develop their leadership skills while exploring differences between the Australian and United States legal systems. "Leading as Lawyers" is a collaborative course offered annually by the TC Beirne School of Law and the University of Tennessee College of Law (UT).
Penultimate-year UQ student Nick Pokarier explained, "We spent quite a bit of the course exploring leadership traits in a lot of different contexts – top tier law firms, academia, the judiciary and in community legal centres. This, to my surprise, really brought home for me that I had already been exposed to some really inspirational people in my life who could see my strengths and weaknesses and develop on them in both a social and professional setting."
Final-year student Jack Baldwin said, "It was fascinating to gain a first-hand insight into the subtle differences in style and approach between the Australian and American legal, education and political systems. The course focussed on barriers to leadership, the importance of self-awareness, the ethics of leadership, as well as contemporary issues such as the future of the legal profession, gender treatment and bias, and access to justice. Interpersonal skills, such as leadership capabilities, are very important in today's workplaces and consequently it was extremely useful to consolidate my understanding of what makes an effective leader." 
The course aims to develop in students an understanding of their own leadership potential, and to consider ways in which lawyers are called upon to lead. Pro bono practice is one such leadership activity of mutual interest to UT and UQ. UT operates the longest-running legal clinic in America, undertaking pro bono legal work in areas of domestic violence, immigration, and wrongful conviction, among others. Similarly, UQ's Pro Bono Centre is recognised as the only facility of its kind in an Australian law school and, in 2016, received a national award for outstanding university teaching.
Nick believes the course was worthwhile. "I think I have absolutely developed tools to help me become an enterprising and fulfilled legal professional. The course taught me the value of keeping an open mind and challenging yourself in a very different environment. The time taken by both the Australian and US academics to emphasise the importance of wellbeing was something I appreciated and hope to always keep in mind."
Jack agreed, concluding "This course provided an opportunity to reflect on my own strength and weaknesses, and my goals and aspirations - something that I do not always set aside the time to do. As you navigate the daily grind of Law School, it can be easy to forget that there are options beyond the traditional commercial law firm path. This course has helped me to appreciate that there are many other fulfilling, high-impact career options that present an opportunity to address some of society's largest problems. This was a welcome timely reminder for a final year law student who is currently at a crossroads in terms of determining their future career direction. "