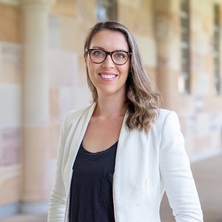 The measures that can be taken to prevent terrorism and other crimes remains a perennially relevant topic. While the subject first received substantial attention in the aftermath of September 11, the last few months have seen dramatically stronger surveillance laws in the UK, and a continuing debate around immigration policy.
Whether preventive laws can actually prevent wrongs, while still upholding basic rights, liberties and values is a topic of heated debate. Research by the UQ Law School into this question culminated in a book published by Routledge, Regulating Preventive Justice: principle, policy and paradox, edited by UQ's Professor Simon Bronitt and Dr Rebecca Ananian-Welsh in conjunction with Dr Tamara Tulich and Associate Professor Sarah Murray from the University of Western Australia.  
On considering the book, Professor Lucia Zedner of The University of Oxford wrote "Whereas earlier scholars looked upon preventive justice as a source and means of regulation, the powerfully argued contributions to this volume provide forceful reasons to consider whether we would do better talk about regulating preventive justice."
Preventive justice is more than counter-terrorism law. Dr Ananian-Welsh explains "Counter-terrorism schemes such as control orders, preventive detention orders and counter-radicalisation approaches are explored. But prevention also plays a central role in the area of mental health, where police can be tasked with assessing a person's risk to themselves and others." 
Similarly, preventative justice is a goal for policies around immigration, the environment and organised crime, says Dr Ananian-Welsh. "Immigration law and policy today is increasingly used as a preventive justice tool, with detention of would be immigrants supported by risk prevention justifications. Deferred prosecution agreements are emerging as a controversial preventive justice tool. In environmental law the concept of prevention has a long history, and invites us to consider the relationship between prevention, pre-emption and precaution."
Preventive justice laws aren't always effective though, but the lack of returns hasn't always prompted re-evaluation. One chapter by Dr Ananian-Welsh examines the Queensland anti-bikie laws. "Here in Queensland we have seen a spike in preventive laws to fight a 'war on bikies'. However, a lack of proven effectiveness at actually preventing crime has actually supported the escalation in the severity of these laws, rather than their reconsideration."
With chapters from both leading and emerging scholars in a wide variety of law, criminology and policy fields, Regulating Preventative Justice brings together a diverse collection of viewpoints. The product of ongoing collaboration between each of the authors, the work is a cohesive whole that aims to advance the field of 'preventive justice'.