Students who have competed in mooting and legal skills competitions in 2017 were recognised this week at the sixth annual David F Jackson Mooting Dinner.
The event, held at The Women's College (UQ St Lucia), also acknowledged the tremendous support of the coaches and sponsors.
Awards to recognise outstanding achievements in advocacy were presented to the following students:
David F Jackson Award for Outstanding Advocacy: Benjamin Teng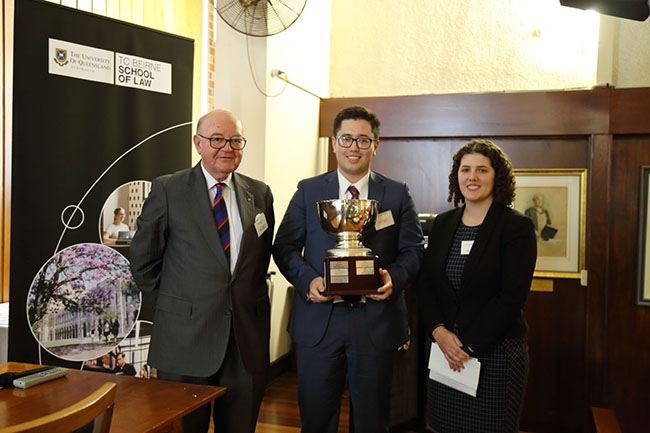 Mr Teng said it was an honour to receive the award and was extremely grateful for everything that the mooting program had offered him.
"The greatest highlight is the people you meet and the inevitable camaraderie that arises out of preparing for and competing in these moots, amongst fellow mooters and mentors," he said.
"I have also been privileged to have been mentored by some truly dedicated and passionate coaches, to have been judged by some very generous and forgiving judges, and to have been able to give a little back by mentoring other outstanding mooters."
Bar Association of Queensland Best Oralist in a Moot Competition: Antonia Bellas, International Maritime Law Arbitration Moot
Queensland Law Society Best Moot Team: Philip C Jessup International Law Moot Competition Team (Keilin Anderson, Benjamin Teng, Kate Cincotta, Sophie Ryan and Josephine Allan)
The event was attended by more than 80 guests including a number of leaders in the legal profession. The Hon Justice John Bond delivered the guest address.
The Law School is grateful to both the Queensland Law Society and and the Bar Association of Queensland for their continued sponsorship of these awards.
View the photo gallery: