University of Queensland law students now have greater access to legal experience in human rights and civil liberties thanks to two new pro bono partnerships.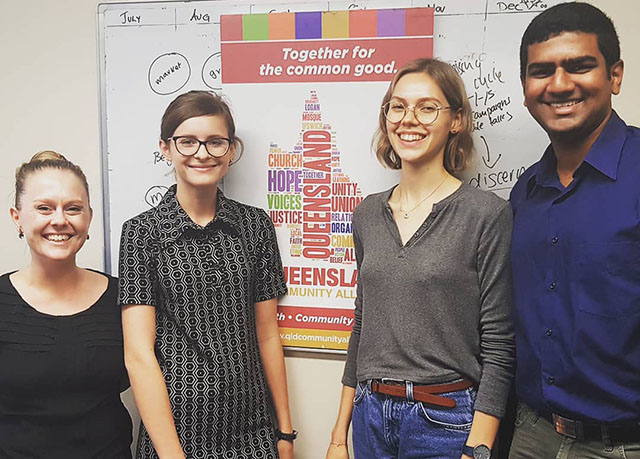 The TC Beirne School of Law's UQ Pro Bono Centre is partnering with Civil Liberties Australia (CLA) and Queensland Community Alliance to provide students with more opportunities to put their legal skills into practice.
UQ Pro Bono Centre Director Monica Taylor said the Centre was thrilled to add to its growing partner base.
"Being able to partner with CLA and Queensland Community Alliance means our students will continue to benefit from transformational experiences that impact communities while at the same time serving an unmet public need," Ms Taylor said.
"The Centre works closely with many stakeholders in the legal sector including private law firms, barristers, and community legal centres to leverage their pro bono contribution with student input."
CLA Director Rajan Venkataraman said he was excited about the new collaboration, which had already yielded two major proposals for law reform in Queensland.
"Civil Liberties Australia has collaborated with the UQ Pro Bono Centre on two substantial law reform projects – reform of Queensland's antiquated abortion laws and reform of Queensland's criminal appeals process," Mr Venkataraman said.
"We have been very impressed with the quality of the work of the students who thoroughly researched the issues and prepared written submissions on behalf of CLA."

Five students have already started contributing to the Queensland Community Alliance's projects on issues concerning labour hire companies and registered training organisation.
Queensland Community Alliance Organiser Elise Ganley said the students had been working with the QLD Community Alliance to develop campaigns for better employment and training outcomes.
"Students have been engaging with us and our community leaders as we form the analysis which will be the foundations for our future action," Ms Ganley said.
"The UQ Pro Bono Centre has been very supportive of both the QLD Community Alliance and the students as we carry out our work together."
Some of the UQ Pro Bono Centre's existing partners also include:
Disability Law Queensland
Salvos Legal Humanitarian
Cancer Council Queensland
Caxton Legal Centre
LawRight
Women's Legal Service
LGBTI Legal Service
Many individual barristers
To partner with the UQ Pro Bono Centre, contact probono@law.uq.edu.au
Students interested in Pro Bono activities can apply via the Pro Bono Roster. 
Media: Caroline Enright, TC Beirne School of Law Communications, media@law.uq.edu.au or +61 3365 5296