University of Queensland law graduate Anne-Marie Rice has been named the Leneen Forde AC Woman Lawyer of the Year at the annual Women Lawyers Association of Queensland (WLAQ) awards night.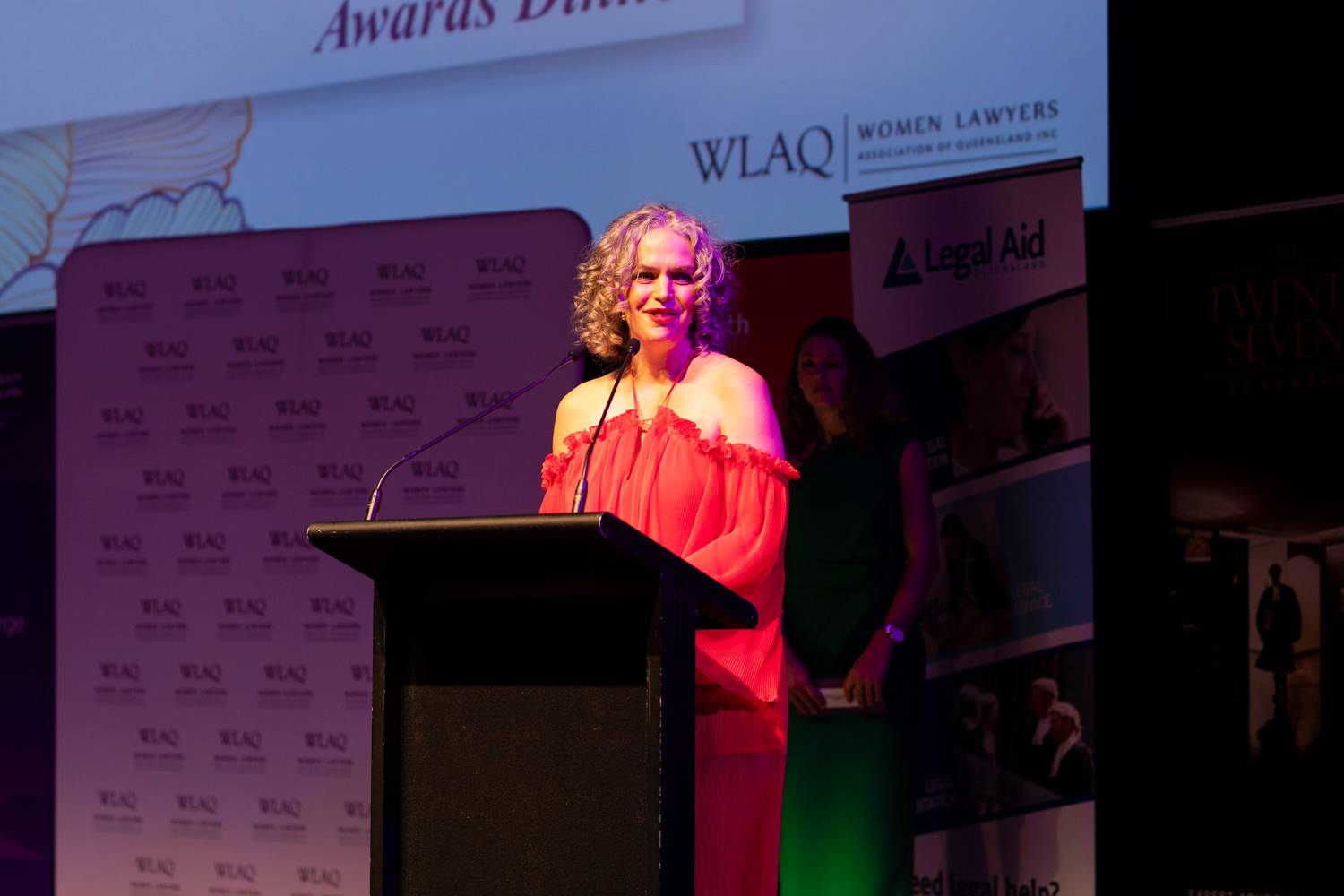 Ms Rice, who is the Principal Mediator at Rice Mediations, a Director of Rice Naughton McCarthy and a family law lecturer at UQ's Law School, was awarded the prestigious title for her ongoing commitment to women in the profession.
In her acceptance speech, Ms Rice said challenging the paradigm of what it means to "lawyer" will allow women to practice in a more intuitive way.
"The responsibility for the change to make professional life sustainable for women lies with all of us," Ms Rice said.
"The time to think about, and then work out, how to practice as a problem solver not a gladiator is upon us," she said.
"This is a very important subject. It has struck a chord with many, many women who have contacted me in response to my comments.  
"We owe it to ourselves and to future generations of lawyers to keep the conversation going."
The Law School has sponsored the Woman Lawyer of the Year award, which was renamed this year to honour WLAQ's founding President, since 2014.
Dean of Law Professor Patrick Parkinson said Ms Rice had been at the forefront of encouraging mediation and less adversarial approaches to litigation in family law.
"It's wonderful to see Anne-Marie acknowledged with this rightly-deserved award," Professor Parkinson said.
"Anne-Marie is an excellent role model for female students about to embark on their careers in the legal profession," Professor Parkinson said.
Rice Naughton McCarthy is recognised locally and nationally as a leading family law firm and Anne-Marie is known to her peers as one of Queensland's leading mediators and family lawyers.
Ms Rice has held executive roles with a number of leading bodies including the Law Council of Australia, the Queensland Law Society and the Family Law Practitioners Association. She is a fellow of the International Academy of Family Lawyers.
Other individual awards presented on the night were:
Emergent Woman Lawyer – Charlotte Campbell, Maurice Blackburn Lawyers
Regional Woman Lawyer – Thelma Schwartz, Queensland Indigenous Family Violence Legal Service
Woman in Excellence – The Hon Justice Roslyn Atkinson AO, Supreme Court of Queensland
Trailblazer – Christine Wilson, Federal Prosecutor, Commonwealth Director of Public Prosecutions
Legal Aid Queensland Equitable Briefing Award – Fisher Dore Lawyers.
See Anne-Marie's acceptance speech.  
Media: media@law.uq.edu.au or +61 7 3443 1321.