The University of Queensland's Law School won the Best Overall Respondent Side during the championship rounds at the 2019 Philip C. Jessup International Law Moot Court Competition in Washington DC, USA.
The team – students Olivia Duce, Kyle Eggins-Alman, Josh Halikos, Laura Heit and Josh McKersey – qualified for the international competition after coming second in the Australian rounds at the High Court of Australia in Canberra in February.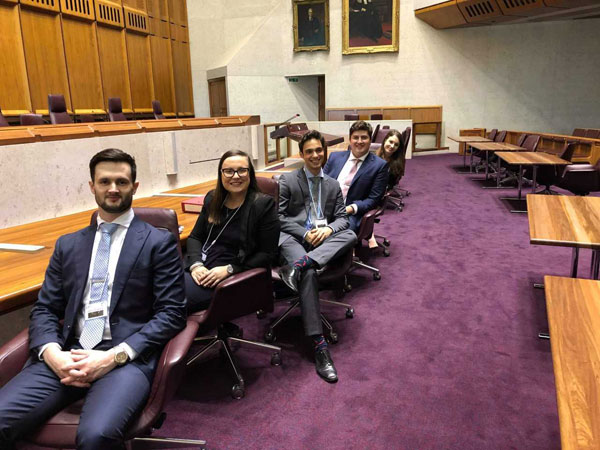 Law Dean Professor Patrick Parkinson congratulated the team on their success.
"To break through to round 32 in Washington was a tremendous effort by an outstanding group of students and is a testament to their incredible legal research and advocacy," he said.
The UQ team placed eleventh for best overall memorials and was best-ranked out of the Australian teams for their compelling performance at the international rounds in Washington in April.
Ms Laura Heit was also named sixth best speaker in the international preliminary rounds.
The team were coached by previous Jessup contenders Mr Julius Moller and Ms Elizabeth Stanley.
Now in its 60th year, the Philip C. Jessup International Law Moot Court Competition is considered the world's most significant mooting contest.
Student teams are challenged to present both oral and written arguments for both the applicant and respondent of a fictional dispute before the International Court of Justice, the judicial organ of the United Nations.
More than 600 law schools from all over the world take part in regional rounds for a chance to compete in the championship rounds in Washington.
UQ teams have a strong record of success in mooting competitions and have previously won the Philip C. Jessup International Law Moot Court Competition three times.
The Jessup season has just concluded and will commence again in September this year.
Current students apply now
Current students can apply online now. for domestic moot competitions. Applications are open until 30 April.