Quality teachers and a love for learning are the key to success, according to one of the major winners of the annual UQ Law School Awards.
The event celebrates outstanding students and teachers and also recognises the valuable contribution of those who dedicate their time to volunteering at the Pro Bono Centre.
We spoke to two of the prize winners, Law student Anna Kretowicz, and former Law School tutor, Anthony Kung, to find out why they're passionate about law and what drives them to succeed.
---
Third-year Law student, yoga devotee, book-lover and winner of a grand total of seven prizes at this year's Law Awards, Anna Kretowicz studied a whole other degree—a Bachelor of Biomedical Science—before turning to law, but has always had law on the brain.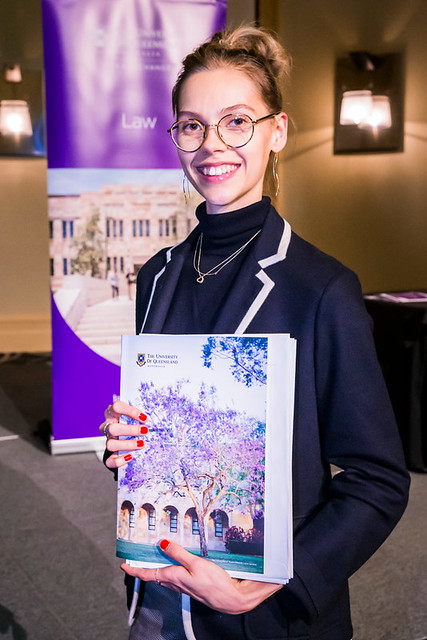 When selecting preferences for university back in her final year of high school, Anna said she did consider law, but instead opted for science because "those were the subjects I was good at in school".
Although she found the coursework interesting, Anna wasn't convinced she wanted a career in medicine.
As graduation crept closer, so too did the decision to study for another four years to become a doctor, and she realised it was now or never to pursue her interest in law.
"I don't regret doing the biomedical science degree and I still love and am interested in that stuff, but I always had law in the back of my mind," Anna said.
If Anna's prize wins this year are anything to go by,  the decision to switch is paying off.
But Anna said it hasn't been a walk in the park. In addition to a lot of "really hard work", Anna's success boils down to four key things.
A love for learning
Anna said she loves learning, which is why she puts so much effort into her studies.
"I genuinely love learning and studying and I really love the university environment," Anna said.
"My success is a combination of the fact that I like learning and I want to do well because I enjoy it, but also because of the pressure I put on myself to do well."
Despite being six years deep in tertiary education, with one degree under her belt and another near completion, Anna is actually considering further study once she's finished her law undergraduate.
"In my first year out I'd really love to go overseas and do a masters: more study!" she said.
"I'm currently working as a research assistant and have had opportunities to work with some Law professors on their books, and I just really like being able to learn.
"It might seem nerdy and I know that some people don't like uni and they're more excited to get out and get a job—and of course, I want a job—but I also really like uni."
2. Healthy competition
Competition can be a powerful motivator, but Anna's toughest competition isn't with fellow Law students and peers, it's with herself.
"You want to do well because you enjoy something, but you also want to do well because you put pressure on yourself to do so," she said.
This strong drive to succeed resulted in top marks for the subjects Anna studied in 2018, for which she was awarded six prizes, plus another prize for the highest overall marks in the year.
"I never set out to be the best at a subject, I just wanted to be the best I personally could be, which comes back to self-competition," she said.
"My best just happened to be the best in the subject—the prizes were just a bonus!"
Admitting that she's always been a bit of a perfectionist, Anna says that she's careful to keep those tendencies in check, reflecting that there's been times in the past that she's been too hard on herself, which can start to become unhealthy.
Her advice to other students in the same boat: try not to take it so seriously.
"Sometimes it gets into your head when you put that much pressure on yourself," Anna said.
"If you don't do so well one time, or on one assessment, it really doesn't matter in the long run; it doesn't matter to anyone else but you."
3. A strong support network
A supportive group of friends, family and fellow Law students has been vital in helping Anna survive her first three years of what is considered one of the toughest degrees around.
"Having an emotional support network is absolutely key to success," she said.
"You can spend all the time you want studying, but being able to lean on other people is a big help."
Anna urges other Law students not to try to do it all on their own, and if they're struggling, to talk to someone about it.
"Ask for help when you need it. That's a massive key to success."
4. Teaching quality
Anna also attributes her success to the high quality of teaching that she receives at the UQ Law School.
In 2017, with the goal to create a more personalised and collaborative learning environment, the Law School completed transformed the Law program.
The School replaced lectures with seminar-style teaching, and reduced class sizes to 30 students, compared to the 100 or 200-strong lectures of many other law schools.
Anna said this change helped to break down the barriers between student and teacher, allowing her to more easily build rapport and get more out of each class.
"The quality of the teaching here is really, really good," she said.
"With the seminar-style classes, you get to know your teachers a lot better and they get to know you.

"You realise that they really want to help you, they get more involved and really put in a lot of effort."
Passionate teachers help students excel
Dr Anthony Kung has been tutoring at UQ Law School since 2015, and is a two-time winner of the Award for Teaching Excellence in Tutorials.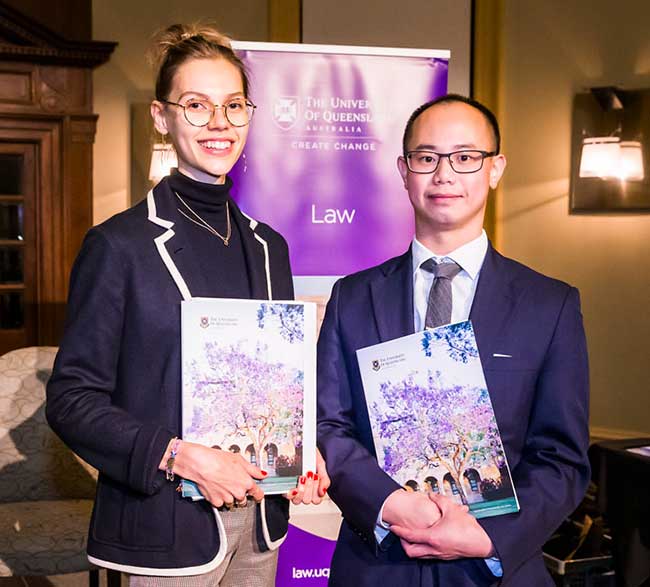 He said his passion for teaching law comes not from a passion for the law itself, but a passion for helping others understand the law.
"I don't profess deep expertise in the law, but what I have been able to contribute is a way of thinking about studying the law and it's enjoyable to be able to see students put that in action in a way that I couldn't when I was a student," Anthony said.
Reflecting on his time as a student at Melbourne Law School, Anthony recalls that he didn't always achieve the results he wanted, even when he committed a lot of time and effort into his studies.
He said he hopes he can help other students avoid the frustrations he experienced.
"It wasn't until my third or fourth year that I finally clicked how to 'do law'," he said.
"I worked out how to make sense of it and strategically prepare for exams—it's about understanding the underlying logic.

"I had all sorts of lessons that I learned very late in my law studies that I wanted to impart at a much earlier stage for law students - I hope it worked!"
2019 Law Awards slideshow
Media: Felicity Miller, media@bel.uq.edu.au, +61 7 3443 1321.