The TC Beirne School of Law in conjunction with the Aboriginal and Torres Strait Islander Studies Unit at UQ was thrilled to host its fifth Inspire U Law residential camp during the mid-semester break, aimed at engaging and nurturing the next generation of Indigenous leaders in the legal profession.
The week-long camp introduced 14 Indigenous high school students, from across Queensland, enrolled in years 11 or 12 to life at law school through a coordinated program of interactive law seminars with academic staff, court visits, judge talks, professional engagements with law firms and two Q&A sessions with current law students.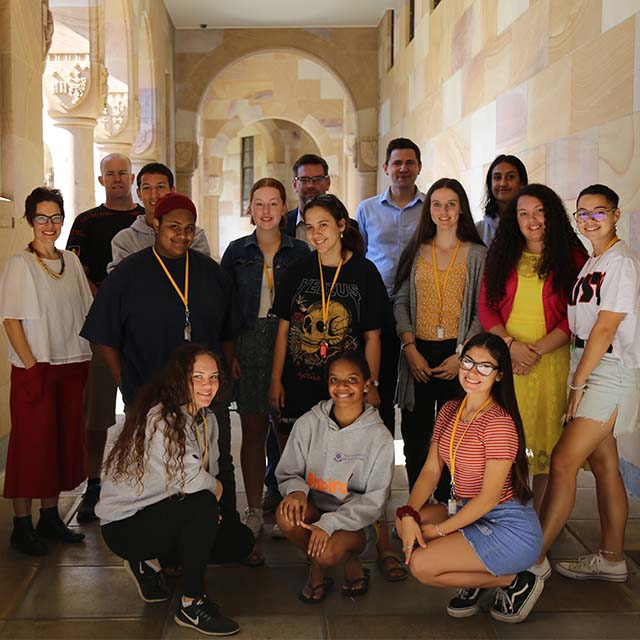 The program was led by Jamie Hagan, Robyn Donnelly, Emma Olssen and Raqual Nutley (ATSIS Unit) in partnership with Associate Professor Peter Billings and Dr Matt Watson (TC Beirne School of Law). the program included seminars led by law school academics, engagements with Justice Philippides of the Queensland Court of Appeal, and Judge Jarro of the District Court, a visit to the Murri Court to learn from Elders about the aims and operation of that Court, and a trip to meet and learn from lawyers working at Corrs, Chambers Westgarth.
The week was rounded off with a Gala Dinner at which several of the students gave inspirational accounts about their background and journeys to date, and their commitment to social justice and change. These stories were complemented by warm words of encouragement and support offered by Professor of Aboriginal and Torres Strait Islander Studies (UQ), Professor Tracey Bunda, and Naomi McCarthy – a  current UQ undergraduate law student and Mentor on the Inspire U Camp.