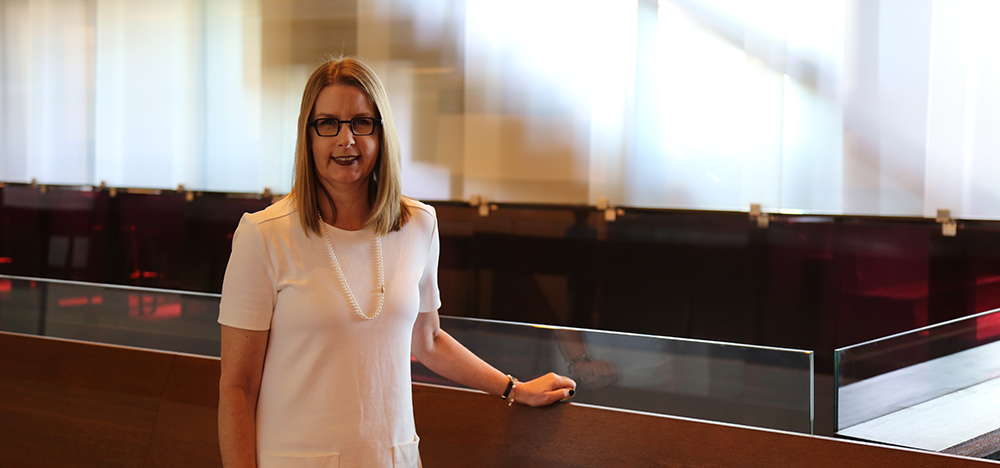 Dear law students,
It is with very mixed emotions that I write to you for the last time in my capacity as Dean of the TC Beirne School of Law. As many of you will already know, I leave UQ on 9 January to take up new challenges as President of the Australian Law Reform Commission and as a Judge of the Federal Court of Australia. It has been an honour and a privilege to lead the School for the past four and a half years and I look forward to watching your very many successes continue to unfold, albeit now from a distance.
The Executive Dean will announce the Acting Head of School as soon as possible and a search has commenced for a new Dean. In the meantime, you are unlikely to notice many changes as the School will continue to run seamlessly thanks to the wonderful efforts of both the academic and the professional staff. I particularly want to thank the Deputy Dean, Professor Simon Bronitt and Professor Fiona Rohde (Deputy Dean, Academic) for their tireless efforts in assisting with the day-to-day running of the School and, of course, my Executive Assistant, Mrs Claudine Kelly and the Business Development Manager, Mrs Maria Parnell. I want to pay special tribute to those members of the professional staff who do so much to assist students in all aspects of Law School life and hope that you all realise how much they are focussed on assisting you to succeed: Ms Geneviève Murray, Director of Co-Curricular Program, the Events Team, Mrs Nadine Davidson-Wall, Mrs Jane Gay and Mrs Therese Yat, Ms Cindy Davies, Student Employability Team, Miss Heather Lam, our front line in the office, and of course the Pro Bono Team led by Ms Monica Taylor and so ably supported by Ms Jennifer Gibbons.
As 2017 draws to a close, I want to congratulate you all on yet another outstanding semester. Although I am sure some of you will be disappointed with some of your results, as a group you have performed exceptionally and, overall, the results continue to improve. You should all be very proud of your collective success.
Particular congratulations to those of you who are graduating on Wednesday and to your Valedictorian, James Rigby.  Many of you, no doubt, thought this day would never come but your perseverance and your dedication has paid off. I hope the celebrations are wonderful for you all.
There have been many highlights this year for the School and for many of you personally. I mention just a few:
Your new "home away from home", the West Wing, was officially re-opened by the Hon Justice Susan Kiefel AC, Chief Justice of Australia, on 13 March and has received critical acclaim for its design, including two National Architecture Awards
Jordan English has been named a 2018 John Monash Scholar
Samuel Walpole, Jaamae Hafeez-Baig, Jordan English and Michael Maynard were awarded University Medals 
Josephine Allan, Keilin Anderson, Kate Cincotta, Sophie Ryan and Benjamin Teng were the overall champions in the written component of the Jessup Moot Competition
Milan Gandhi was the Lawyer's Weekly Law Student of the Year
Penelope Bristow (Best Speaker in the Finals), Jane Hall, Antonia Bellas, Matthew Paterson were the Runner-Up Team in the International Maritime Law Arbitration Moot Team and won the prize for Best Respondent Memo
Benjamin Teng was awarded the David F Jackson AM QC Award for Outstanding Advocacy
Antonia Bellas was awarded the Bar Association of Queensland Prize for Best Orallist in a Moot Competition
Dr Mirza Buana, Dr Victoria Colvin, Dr Henry Kha, Dr Paul Mae, Dr Irna Nurhayati, Dr Benjamin Saunders, Dr Emily Steel and Dr Garth Wooler all successfully completed their PhDs
Muirgen O'Seighin and Murray Buchanan have been awarded 2018 New Colombo Plan Scholarships
Amy Bergman was selected as a Laureate of the Embassy of France "Nicolas Baudin" Travel Program
Samuel Bullen was selected as the Semester One Valedictorian
Linden Peacock was awarded the Zonta International Young Women in Public Affairs Award
Tanushree Venaik won the 2017 Una Prentice Award being the female student who achieved the highest GPA amongst her graduating class
The collective contribution to the UQ Pro Bono Centre. In 2017, the student roster had 550 students registered (approximately 50% of the entire Law School population). 214 students were selected from 401 applicants to participate in 65 opportunities. Students also undertook 23 visits to 21 high schools to offer classes in Domestic & Family Violence Law, International Humanitarian Law and Refugee and Immigration Law. The Clinical Legal Education Program placed 54 students each semester across 11 clinics within 8 community legal centres.
I would also like to congratulate and thank the outgoing executive committee members of the UQLS, JATL, ALPSA and UQILS. It has been a pleasure for me to work with you this year and I am deeply appreciative of your contribution to the life of the School. I have every confidence that the new executive committees will continue your wonderful example into 2018.
There are some significant staff matters to share with you. The academic staff of the Law School have also had a very successful year with highlights that include:
Professor Anthony Cassimatis – recipient of a 2017 National Teaching Award
Professor Heather Douglas – election to the Academy of Social Sciences in Australia
Professor Jennifer Corrin – election as a Fellow of the Australian Academy of Law
Dr Thea Voogt – BEL Faculty Award for Teaching Excellence
Mr Russell Hinchy – BEL Faculty Citation for Outstanding Contribution to Student Learning
Professor Tamara Walsh – promotion to full Professor
A/Professor Francesca Bartlett – promotion to Associate Professor
A/Professor Emily Hudson –  promotion to Associate Professor
A/Professor Sarah-Jane Kelly –  promotion to Associate Professor
Dr Rebecca Ananian-Welsh – promotion to Senior Lecturer
This year, the School welcomed several new members of the academic staff. Professor John Swinson accepted a part-time professorial role within the School alongside his substantive role as a partner at King & Wood Mallesons. His particular expertise is in cyber law and intellectual property. Dr Allison Fish joined us from University of Indiana with expertise in law, socio-cultural anthropology and science and technology.  A/Prof Sarah–Jane Kelly is an expert in sports law and has joined us on secondment from the UQ Business School. Dr Jason Chin was previously at the University of Toronto and in practice at Dentons. His research interests lie in law and psychology. Dr Kai Luck has most recently been in practice at Jones Day and has joined the School, primarily lecturing in Equity & Trusts Law, Civil Procedure and Commercial Law. Mr Ryan Catterwell was appointed to lecture in Contract Law and Equity & Trusts.
Next year, we will be joined by A/Professor Rain Liivoja, who is currently at Melbourne Law School and whose expertise is in the law of armed conflict, human rights law, the law of state jurisdiction and the law of treaties. He will be teaching into Public International Law at undergraduate level and will be coordinating specialised postgraduate courses.
As is the case each year, we also farewelled a number of staff. A/Professor Margaret Stephenson retired from the School after almost three decades of teaching property law and native title law. Dr Vincent Cogliati-Bantz has taken a position at the University of Auckland and Dr Melanie O'Brien completes her postdoctoral fellowship at the end of the year and has secured a position at the University of Western Australia.
I would like to encourage all of you to take a break over the Christmas period but am well aware that many of you will be working or studying over the Summer. I hope that, nevertheless, you will find some time to relax before the pressures of yet another academic year take over.
On behalf of all the staff at the Law School, I wish all continuing students and all graduands a happy and enjoyable Christmas season.
With my very best wishes,
Sarah C Derrington