Eight weeks. Seven teams. Seven big ideas that could be game-changing for law as we know it.
In a bid to transform the legal profession, four University of Queensland students have taken home $10,000 after winning the KWM Transform Law prize.
An initiative of UQ Law and law firm King and Wood Mallesons—who donated the $10,000 prize—the competition attracted students from across the University who took part in an eight-week program to create and pitch ideas for a new technology to address a common problem in law.
Taking out first place was the JustAI team with their product Minrva, an AI and machine-learning powered search engine that provides answers to the everyday legal questions searched for by Queenslanders.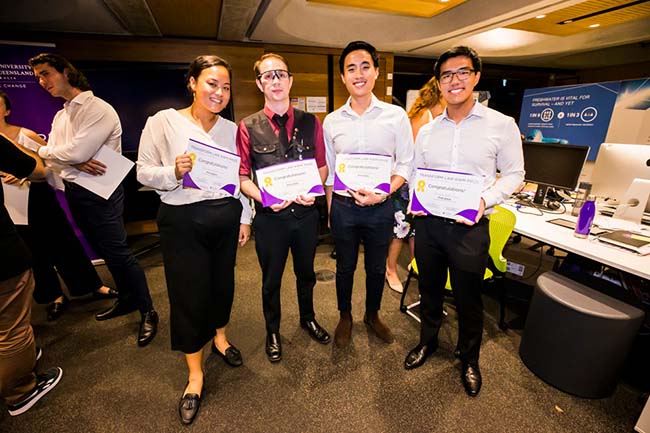 The team, consisting of Aimi Gordon (Bachelor of Arts (Japanese)/Bachelor of Laws (Honours)), Alwyn Wan (Bachelor of Commerce (Information Systems)/Bachelor of Laws (Honours)), Mitree Vongphakdi (Bachelor of Commerce (Finance)/Bachelor of Laws (Honours)), and Richard Roth (Bachelor of Computer Science (Machine Learning)), said they developed the idea for Minrva after identifying the challenges of searching for legal information online for those not well-versed in the law.
"While there are many plain language legal resources available online like Caxton's Legal Handbook, LawRight's Legalpedia and Legal Aid's fact sheets, they are not easy to navigate without a certain level of legal literacy," Mitree said.
"This presents a major access to justice issue as any delay or difficulty in receiving legal information can be highly detrimental to a person's circumstances.
"Minrva takes plain language input about a legal issue and uses it to search for and provide relevant legal information."
Although the JustAI team knew each other prior to the competition, many of the other teams were formed at the program's kick-off 'date night' as teams were required to have at least one law student, plus a student from another discipline. 
Following on from date night, teams participated in a series of incubator-style workshops run by UQ Ventures, receiving a crash course in startups, entrepreneurship, testing the market and monetising a new technology.
The teams also received mentoring from experts in startups and different areas of the legal sector to gain a better understanding of the market and how to position their products. 
"The mentor nights gave us a lot of insight into what people were looking for, and how to frame our innovation in a way that actually addressed prevalent issues," Aimi said. 
"As our solution is focused on access to justice, with implementation relevant to community legal centres (CLCs) and legal assistance services, we found the insights provided by Akaash Singh [QLD President, The Legal Forecast] and Dr Ryan Catterwell [Lecturer, UQ Law] particularly helpful.
Richard, JustAI's computer programming expert, said the expertise they received from the Ventures team also played a vital part.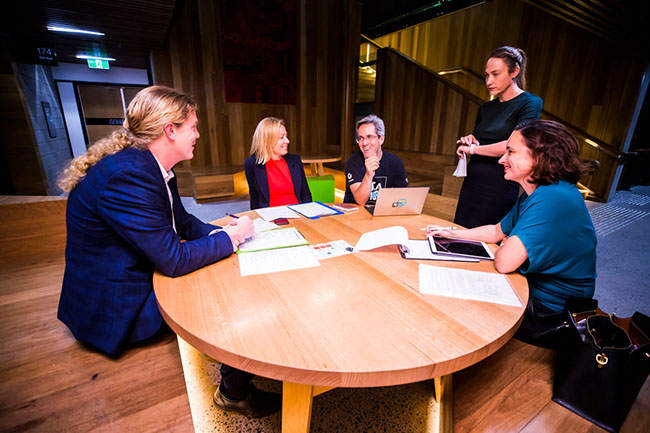 "We are very thankful to Nimrod Klayman [Head of UQ Ventures] and Tomas Piccinini [Ventures Program Officer] for their assistance in developing our business model and pitch," he said.
The program culminated in the 'pitch night' final.  In SharkTank-style, each team had four minutes to pitch their idea and four minutes to answer invariably incisive questions, facing a panel of experts consisting of UQ's own Associate Professor in Marketing and Law Sarah Jane Kelly, founder of The Legal Forecast Angus Murray, and KWM technology law expert Kirsten Bowe.
"The program provided us with first-hand experience in creating and presenting a pitch; developing an idea that would eventually be used by others, while taking into account any additional considerations that come with improving accessibility; and, most importantly, working with a solid team of like-minded individuals to make this product the best it can be," Alwyn said.
JustAI are currently refining their prototype and intend to use the prize money to develop and implement the tool on the sites of CLCs, Legal Aid Queensland, and other legal assistance services in Queensland. 
"In the long term, we hope to further develop and evolve the technology to apply it to different industries and maybe one day be able to convert it into a bonafide search engine," Richard said.
Other ideas presented included a terms and conditions reader, an educational program, billing software and a class action notification system.