#TransformLaw KWM Prize
Your chance to win $10,000
UQ Law School and UQ Ventures, in partnership with King & Wood Mallesons, are calling on UQ undergraduate students from all disciplines to team up to develop innovative proposals that use technology to solve a problem in legal practice (think topics like access to justice, cybersecurity and automation).
About the competition
10 August 2023 - 5 October 2023
#TransformLaw KWM Prize is so much more than a competition, it's a unique opportunity to get exposure to the world of entrepreneurship and gain skills that will serve you throughout your degree and career.
Here's how it works:
1. Team up
Join a team of 2-4 UQ undergraduate students, including at least one law student and one non-law student.
Don't worry, if you don't have a team we can match you with other participants!
3. Pitch your idea
If your proposal is shortlisted in the top five, you'll be invited to present to a panel of judges made up of academic and industry experts. If you win, your team will receive $10,000!
Mentors
As part of the program, you will be mentored and/or judged by a selection of high-calibre legal, tech and business experts. In previous years our mentors have included:
Bernadette Stirling – Head of Innovation & Market Development at Clayton Utz
Katie Richards – CEO & Founder at Law On Earth & Virtual Legal
Peter Polacek – Founder of Fortra Flow
Yaw-Hsien (Shen) Chow – Principal Lawyer, YHC Lawyers
Susannah Wilkinson – Chair of the Digital Commerce Committee, Law Council of Australia
Claire Cunningham – PHD Candidate UQ
Kathryn Giudes –  Managing Director macroDATA Digital Solutions
Sarina Eggers-Stable –  Founder and Managing Director, Business Kitz
Andrea Perry-Petersen CF – Consultant, Researcher and Lawyer.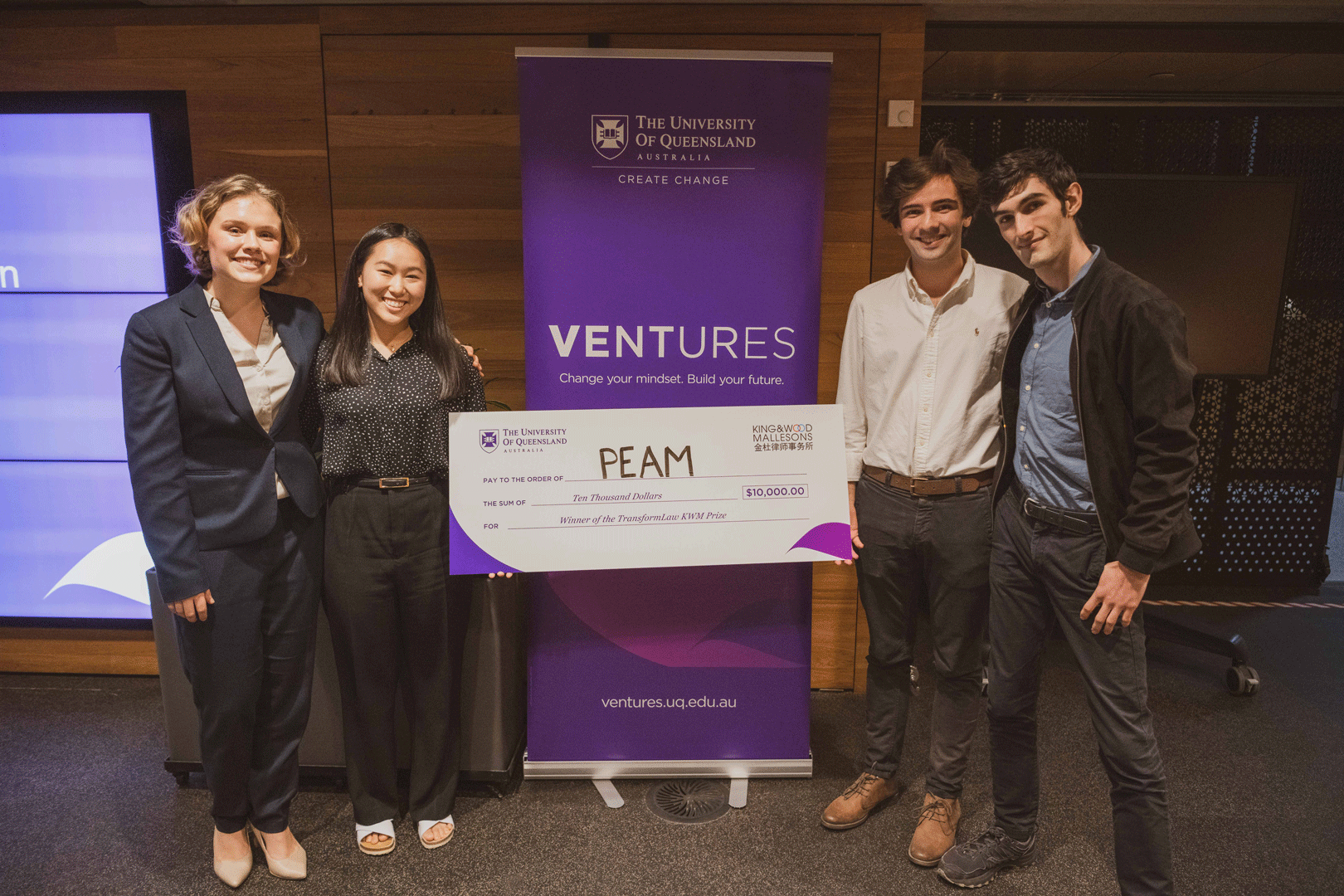 2021 Winners (L–R) Grace Beattie, Leidi Peng, Nelson Prichard and Felix Hall pitched 'PEAM' – an AI sentiment analysis tool that helps individuals better prepare themselves for the mediation phase of the family law process.
Program outline
Throughout the program you'll step through a number of sessions, taking you from inspiration to ideation, and eventually implementation and testing.
Date and time
Session
What you'll be doing

5–7pm, 10 Aug

Session 1 

Date night and User identification

Brainstorm to identify users whose lives could be improved by innovation in law and regulation. Plus, take part in a bunch of activities to meet your teammates.

5–7pm, 17 Aug

Session 2

 

Learn the human-centred design (HCD) tools needed to effectively interview and obtain insight from users and key stakeholders. 
Inspiration:  the purpose of the first two sessions is to understand the user of your products and/or services, what design challenge you are facing and your team member roles.

5–7pm, 24 Aug

Session 3

 

Brainstorm potential solutions to address the identified challenge and narrow it down to the top three.
Ideation: the purpose of the third session is to brainstorm, choose and define the best solution for the challenges you identified in sessions one and two.

5–7pm, 31 Aug

Session 4

Solution selection, fit to market analysis and business viability.

Use business model and industry analysis canvas tools to understand the viability of the different solutions from a business and customer perspective.

5–7pm, 7  Sept

Session 5

Rapid prototyping

Rapid-prototype the user experience journey (storyboard) for your solution and learn how to create an impactful presentation.

5–7pm, 14 Sept

Session 6

Mentoring night and pitching practice

Pitching preparation! Put the final touches on your prototype and develop your pitch with the assistance of Ventures staff and real entrepreneurs.

After mentoring night, you will have two weeks (plus mid-sem break) to prepare your pitches for Demo Day.

5–7pm, 5 Oct

 

Session 7 

Pitch night 

Present your solution (pitches and prototypes) to a panel of judges. The winning team takes home $10,000.
Implementation and iteration: during sessions 4-7 teams will explore the fit to market of their ideas, prototype their solutions and iterate the process to incorporate lessons into their solution. Teams will also provide an action plan for the team moving forward.
In this blog, the 2020 competition winners discuss everything you need to know about the #TransformLaw KWM Prize competition, including why you should enter and their top tips for competitors in the 2022 round.
Previous winners
Get inspired! Check out the previous competition winners:
KWM #TransformLaw 2019
Aimi Gordon (Bachelor of Arts (Japanese) / Bachelor of Laws (Honours))
Alwyn Wan (Bachelor of Commerce (Information Systems) / Bachelor of Laws (Honours))
Mitree Vongphakdi (Bachelor of Commerce (Finance) / Bachelor of Laws (Honours))
Richard Roth (Bachelor of Computer Science (Machine Learning)),
Discover more about the JustAI team with their product Minrva.
KWM #TransformLaw 2020
Tristan Latcham (Bachelor of Commerce / Bachelor of Laws (Honours))
Anastasia Laczko (Bachelor of Engineering (Honours) / Bachelor of Information Technology) 
Abi Ketheeswaran (Bachelor of Commerce / Bachelor of Laws (Honours))
Melanie Karibasic (Bachelor of Arts / Bachelor of Laws (Honours))
Read about their winning idea Elysian here.
KWM #TransformLaw 2021
Grace Beattie (Bachelor of Science (Psychology) / Bachelor of Laws (Honours)),
Félix Hall (Bachelor of Computer Science)
Leidi Peng (Bachelor of Commerce / Bachelor of Laws (Honours))
Nelson Prichard (Bachelor of Politics, Philosophy and Economics (Honours))
Learn more about their product 'PEAM' online.
KWM #TransformLaw 2022
Julia Cowell ((Bachelor of Laws (Honours) / Bachelor of Arts (Journalism and Mass Communication / Media and Digital Cultures)
Finn Larson (Bachelor of Commerce / Bachelor of Laws (Honours))
Tom Bizzell (Bachelor of Commerce / Bachelor of Laws (Honours))
Chantal Duffy ((Bachelor of Advanced Finance and Economics))