Four entrepreneurially minded students have taken home $10,000 after winning the 2020 #TransformLaw KWM Prize with their pro bono digital marketplace concept 'Elysian'.
#TransformLaw is a UQ Law School and King & Wood Mallesons initiative that encourages outside the box thinking.
Over eight weeks, teams comprised of interdisciplinary students set about developing and pitching innovative proposals that used technology to address a shortfall in legal practice. This was part of an incubator-style program designed and run by the Ventures team at UQ.
Elysian team members Tristan Latcham (Bachelor of Commerce/ Bachelor of Laws (Honours)), Anastasia Laczko (Bachelor of Engineering (Honours) / Bachelor of Information Technology), Abi Ketheeswaran (Bachelor of Commerce/ Bachelor of Laws (Honours)) and Melanie Karibasic (Bachelor of Arts/ Bachelor of Laws (Honours)) were thrilled that their hard work was recognised.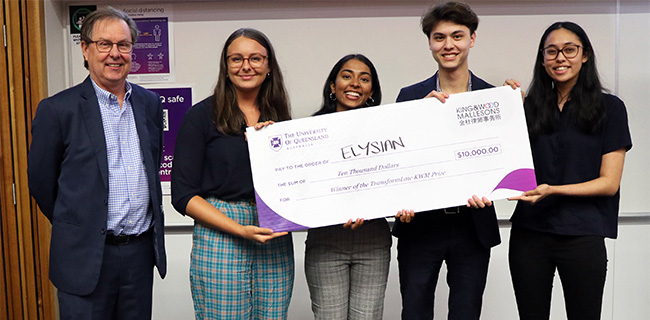 "It's all very exciting," winning team member Ms Karibasic said.
"We are optimistic that the prize money will enable us to get Elysian up and running.
"Hopefully, in the long term, we can further develop the platform to apply to different legal jurisdictions, and perhaps to different industries."
Elysian is a digital marketplace designed to not only list and sort pro bono opportunities – empowering community legal centres (CLCs) to advertise ventures with ease – but also to capitalise on machine learning capabilities and recommend matches for its users.
"As law students, we have worked in the pro bono sector for many years and witnessed the struggle that CLCs endure in order to recruit experienced and motivated volunteer lawyers, who also have expertise in the required area of law," fellow team member Ms Ketheeswaran said.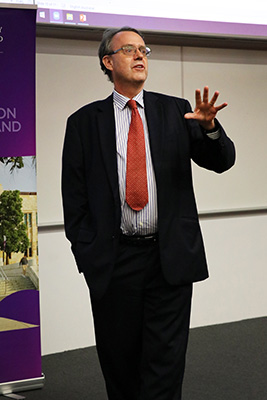 "We have come to realise that many lawyers working at firms are eager to share their knowledge and expertise but that the administrative work remains a deterrent."
While Elysian can make targeted and niche recommendations, it also reserves the ability for community organisations to choose registered lawyers to their liking.
"Unlike its competitors, the platform does not match its users through purely algorithmic matching, nor is it wholly manual," Ms Karibasic said.
"It also removes the administrative inefficiency lawyers experience when searching for pro bono matters that are tailored to their skillset and expertise.
"Broadly speaking, Elysian aims to bridge the current disconnect between community organisations requiring volunteer assistance and practising lawyers looking for pro bono opportunities."
Winning team member Ms Ketheeswaran said mentoring from industry professionals and the UQ Ventures team during the incubator-style program was integral to the team's success.
"While it was very clear when we talked to our mentors that our initial idea may have been theoretically correct, without a deeper understanding of how the entrepreneurial and tech industry worked, our product was as good as useless," Ms Ketheeswaran said.
"It is incredibly valuable to have the external, objective perspective of a mentor; someone who can see the tiny cracks in the glass.
"We will be forever grateful for UQ Ventures and our mentors' support and encouragement throughout the entire program."
Also vital to Elysian's success: #TransformLaw requires teams to have at least one non-law student on board, which led the law students to find IT and software engineering student Ms Laczko and commerce wiz Mr Latcham.
"This was easily the highlight of the program." Ms Ketheeswaran said.
"Meeting and getting to know other team members was an absolute pleasure.
"It's always interesting to see what kind of fresh and innovative perspectives each team member would bring to meetings as we all embraced our different backgrounds, different disciplines and different values."
Ms Karibasic shared this sentiment, also noting the social benefits of #TransformLaw.
"Our team feels as if we have formed a life-long bond over the competition," she said.
After end-of-year exams, the Elysian team plan to refine their platform and undertake a second round of research and networking.
In the meantime, the winning students plan to encourage their peers to complete the #TransformLaw program in subsequent years.
#TransformLaw was established in 2019 by UQ Law School in collaboration with law firm King & Wood Mallesons. The competition attracted more than 50 student participants in 2020.  
Contact: BEL Communications Team, media@bel.uq.edu.au