Every year, Cambridge Australia Scholarships award up to ten PhD scholarships and a number of Masters degree half-scholarships to worthy Australian students. In 2020, two UQ Alumni were successful in securing a scholarship and embarked on their higher education journey.
2018 UQ Law graduate Sophie Philip combined a Rotary Global Grant Scholarship with her Cambridge Australia Allen Half Scholarship. Sophie was also offered a prestigious Wakefield Scholarship by the Cambridge Institute of Technology but turned it down to allow another deserving individual to take advantage of the opportunity.
Similarly, UQ alumnus and UQ Excellence Scholarship awardee Daniel Thambar was successful in securing the inaugural Cambridge Australia Scholarship for Queensland as generously founded by fellow alumnus The Honourable Justice Anthe Philippides.
As Sophie and Daniel flew across the world to tackle their chosen programs, they were eager to share their insights and advice on pursuing further education.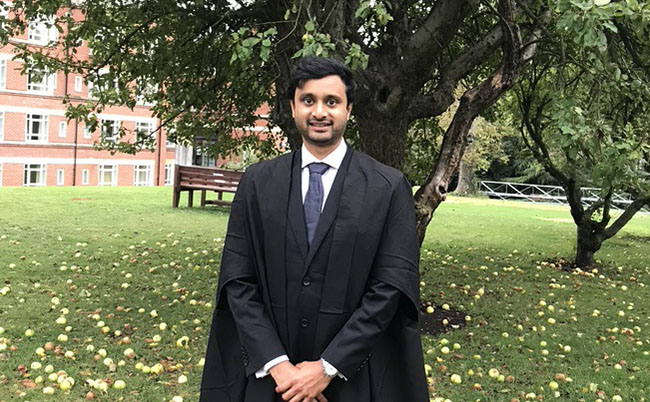 Daniel, how do you feel to have secured the first-ever Cambridge Australia Scholarship for Queensland?
Daniel Thambar: It's such an honour to be the first recipient of the Cambridge Australia Scholarship for Queensland. I am extremely grateful to The Honourable Justice Anthe Philippides for her generosity in establishing this scholarship, and for making my Cambridge experience possible.
When you were a student at UQ, did you know you wanted to pursue further education?
Daniel: Throughout my time at UQ, I developed a strong interest in public law and international human rights law through the courses I undertook as well as through working at various Community Legal Centres. I was keen to pursue an LLM because I knew it would allow me to explore my interest in these areas further.
As a student, it was my dream to study at Cambridge.
I believe that my undergraduate degree at UQ provided an extremely strong foundation for my application to Cambridge. The law courses at UQ are rigorous and demanding, and I was fortunate to be taught by many inspiring lecturers. - Daniel.
In particular, Professor Peter Billings, who taught me administrative law and immigration and refugee law, cultivated my passion for public law and assisted me throughout the application process.
Sophie Philip: In all honesty, for most of my time at UQ I really didn't know what I wanted to do or where I wanted to be after graduating. I didn't become aware that postgraduate study at Cambridge was something to which I could aspire until my final years at UQ.
I was raised and attended public schools in Darwin and certainly didn't know anyone who had studied at Cambridge or any other international institution when I was growing up. I eventually learnt that it was an option from my teachers and peers in the UQ Law School and became increasingly committed to the idea while working as a Research Assistant to Professor Heather Douglas and Dr Rebecca Ananian-Welsh. It was really inspiring to witness the incredible, and socially important, academic careers they both have.
What will these scholarships allow you to achieve?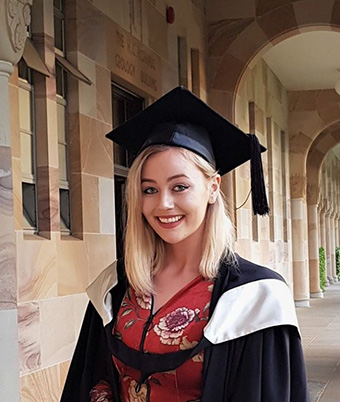 Sophie: I am deeply, genuinely grateful to Cambridge Australia Scholarships, Mr Charles Allen A.O., the Rotary Foundation and the Rotary Club of Darwin for giving me the opportunity to undertake the MPhil in Criminological Research at Cambridge. I could not have accepted my offer to do so without the generous support of the Cambridge Australia Allen Scholarship and Rotary Global Grant Scholarship.
I believe this course will give me the skills to meaningfully contribute to research and evidence-based policymaking targeting domestic and family violence throughout my career. I care very deeply about that issue, in no small part because of my work experience in the Northern Territory, and I have conviction that better, more scientific interventions can be developed.
Daniel: This unique opportunity will allow me to develop a critical understanding of public law and international human rights law at one of the world's leading universities. I am passionate about these areas of law because they both aim at restraining unlawful government action and, in doing so, assist in the protection of individuals' rights.
I hope to use my understanding of public law and international human rights law to protect the rights of marginalised groups in Australia, particularly in the field of refugee protection.
What would you say to students who are unsure about applying for international institutions, and their subsequent scholarships?
Sophie: When I applied to study at Cambridge, I had very little confidence that I would get into the program and less still that I would obtain funding for it. I only pushed myself to apply because of the unfailing encouragement of my family and dear friends.
To anyone on the fence about applying, especially young women or undergraduates for whom studying somewhere like Cambridge is a novel concept: you are a much better candidate than you think you are! Don't let a lack of confidence limit your ambitions.
Daniel: I almost didn't apply for this scholarship, as I assumed my application wasn't competitive enough. I would encourage all interested students to apply, and not to be dissuaded by the fear of rejection. In fact, I applied to study at Cambridge in 2018 and was unsuccessful, but was accepted the following year!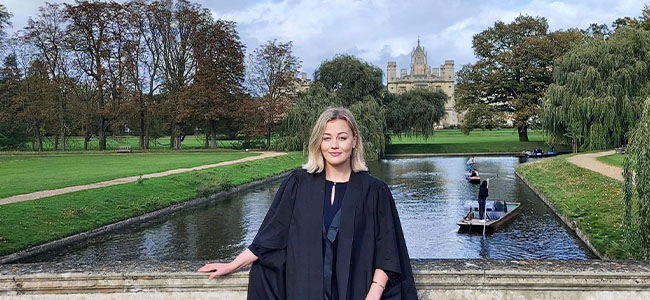 Is there any advice you'd like to give to students who are insecure about their studies during COVID-19?
Sophie: Have faith in your own adaptability. It has been very challenging to find a path to Cambridge this year but through the (frequently taxing) process I have built resilience and learnt how to cope with uncertainty. I think we've all been doing that lately and they are skills that will see you through any environment, however difficult.
Daniel: During this difficult time, we need to look out for each other and reach out to our support networks. Anyone that graduated this year should feel proud. They will be among the most resilient cohorts of students to have graduated.