University of Queensland Law School Professor Graeme Orr has been elected as a Fellow of the Academy of the Social Sciences in Australia for his distinguished contribution to the field of law.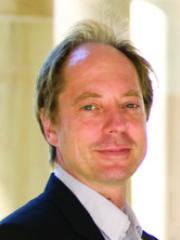 Professor Orr, an expert in the law of politics, was among 38 new Fellows announced for 2020. He joined a select group of Australia's top researchers and practitioners in the social sciences.
"While I enjoy the grind of systematising and critiquing law, it's lovely to have this acknowledgment that my work is of some interdisciplinary value, to political science or the practice of democracy," Professor Orr said.
Professor Orr is a regular contributor to public debate, particularly around the rules and legal norms of electoral politics – a field he has pioneered – but also in his other area of speciality, labour law.
He has published more than 115 opinion pieces in top national outlets and is frequently invited to give evidence at parliamentary inquiries.
Over the past decade, he has authored, co-authored and edited several books, including The Law of Politics, Ritual and Rhythm in Electoral Systems, and The Law of Deliberative Democracy.  
His work has covered sociological issues such as the relationship of law to political symbols and rituals, as well as exploring practical issues like the need to avoid the juridification of politics and the historical and contemporary regulation of vote-buying and money in politics.
Professor Orr is involved in pro bono and expert consultancies, such as the NSW iVote Expert Panel, and he has been an expert witness and deponent in several US and Canadian Supreme Court cases.
He was also made a Fellow of the Australian Academy of Law in 2014.
The Academy of the Social Sciences in Australia comprises the nation's leading political scientists, economists, historians, educationists, philosophers and psychologists, as elected by their peers.
Professor Orr was one of four UQ researchers elected to the Academy in 2020, alongside colleagues Associate Professor Felicity Meakins (School of Languages and Cultures), Professor Andrew Neal (School of Psychology) and Professor Thomas Suddendorf (School of Psychology).
Contact: Professor Graeme Orr, g.orr@law.uq.edu.au; BEL Communications team, media@bel.uq.edu.au