Students and staff at The University of Queensland Law School have a new leader with Professor Rick Bigwood taking the helm as Acting Head of School for 12 months.
Professor Bigwood takes on the role from outgoing Dean of Law and Head of School Professor Patrick Parkinson while the School recruits for a permanent replacement.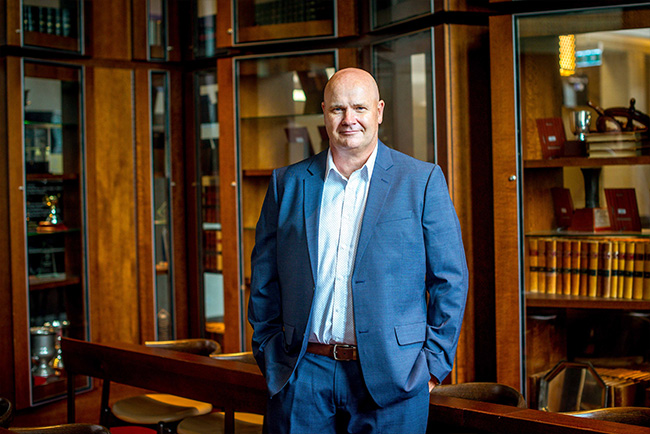 Having worked as a law lecturer at UQ for five years, and briefly acted in the Head of School position in 2018, Professor Bigwood is a familiar face to many.
His teaching and research areas primarily focus on issues within contract law (and within areas that touch and concern contract law, such as property, equity and restitution).
During his time at UQ, Professor Bigwood has been the Director of Professional Engagement, the editor of The University of Queensland Law Journal and recipient of a Teaching Excellence in an Undergraduate Compulsory Course award.
Over the next 12 months, Professor Bigwood hopes to re-establish the School's overall sense of community, which was impacted by the restrictions around COVID-19.
"This is a law school that truly cares about quality in everything it does. Most people here take what they do very seriously, without taking themselves too seriously. This is something about the School staff, students and community that I love." 
- Professor Rick Bigwood.
"My main purpose in this acting position is to maintain the direction that has been established by the leaders who came before me."
Prior to joining the Law School, Professor Bigwood taught property law and contract law at Bond University from 2011-2015, where he was also the Associate Dean of Research.
While at Bond University, he was twice the recipient of the Law Students' Association Teaching Excellence Award. During the same period, he won the LexisNexis Australia Lecturer of the Year Award.
Professor Bigwood was formerly a Senior Solicitor and Acting Principal Solicitor with the Federal Attorney-General's Department in Canberra (Office of Commercial Law).
Throughout his career, he has published widely in leading international journals on subjects within contract, equity and property law, and he has been a keynote speaker at international conferences on contract law.
Professor Bigwood was formerly the General Editor of the New Zealand Universities Law Review (1998–1999), and was Editor of the New Zealand Law Review (2002–2008) and The University of Queensland Law Journal (2019–2021).
He is a member of the editorial boards of the New Zealand Law Review and the Journal of Contract Law, and in 2006 received a National Tertiary Teaching Excellence Award (New Zealand).
Professor Bigwood started his career in New Zealand, where he graduated with a Bachelor of Laws (Hons) from the University of Auckland in 1988. He then went on to complete his PhD in contract law and equity at the Australian National University in 1994 and was awarded an LLD from the University of Auckland in 2015.
In the late 80s/early 90s, he was admitted to the Bar of the High Court of New Zealand, the Supreme Court of the ACT and enrolled as a Barrister of the High Court of Australia.
Professor Bigwood's publications include the following books: Legal Method in New Zealand (Butterworths, 2001); Exploitative Contracts (Oxford University Press, 2003) (awarded the JF Northey Memorial Book Award for 2003); The Statute: Making and Meaning (LexisNexis, 2004); Public Interest Litigation: The New Zealand Experience in International Perspective (LexisNexis, 2006); The Permanent New Zealand Court of Appeal: Essays on the First 50 Years (Hart Publishing, 2009); Contract as Assumption: Essays on a Theme (by Brian Coote) (Hart Publishing, 2010); The Law of Remedies: New Directions in the Common Law (Irwin Law, 2010) (with Jeff Berryman); Cheshire & Fifoot, Law of Contract (10th and 11th Australian editions, 2012 and 2017, respectively) (with Nick Seddon); and Variations on a Theme of Contract LexisNexis Canada, 2019) (with GHL Fridman).