The term 'pro bono' means for the public good and over the past 12-months UQ Law Students have done just that as part of their participation in projects organised through the UQ Pro Bono Centre. At the 2022 Law Awards held at Customs House in May, over 100 of these students were invited to recognise and celebrate their achievements volunteering for the public good in our community.
The UQ Pro Bono Centre was established in the UQ Law School in 2009 and offers Law Students the opportunity to engage in flexible and diverse pro bono activities with partners in the legal profession. These opportunities include community-based initiatives, casework with community legal services and top tier law firms, research for policy reform, developing learning materials for vulnerable community members and disseminating and educating future legal minds through high school education programs - to name but a few.
For law students, the Centre gives them the chance to apply their legal knowledge in a practical setting whilst also being inspired in their learning toward a legal career that recognises the importance of social justice in our community.
The 2021 Pro Bono Publico Award Winner
The UQ Law Awards was also an opportunity to celebrate the significant achievements of UQ Law School Graduate Mitree Vongphakdi who was named the Pro Bono Publico Award recipient for 2021. Each year, the Award recognises the achievements of a graduating student who has made an exceptional contribution to the community through their pro bono legal work.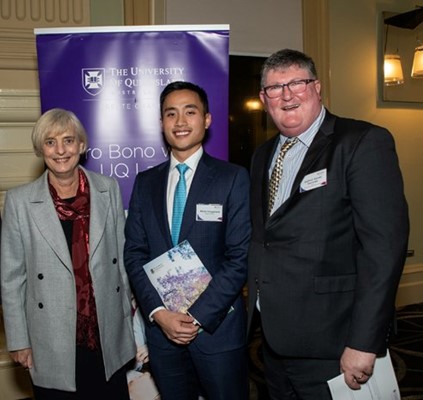 Mitree participated in an outstanding number of roles through the Pro Bono Centre and shared that some highlights of that work include "taking part in Professor Tamara Walsh's Deaths in Custody Project; undertaking a Clinical Legal Placement as part of LAWS5180 with LawRight in the Health Advocacy Legal Clinic under the supervision of Pro Bono Centre Director Mandy Shircore; and volunteering as an Intake and Referral Volunteer with Hub Community Legal, which was also my first experience in the legal sector."
Throughout his time with the Pro Bono Centre, Mitree was particularly impacted by the work he did relating to the experiences of vulnerable people navigating the criminal justice system and in response has become a strong advocate for First Nations people and people with disabilities accessing justice. Mitree shared that this has inspired and guided his work with Prisoners' Legal Service and as a Research Assistant to Associate Professor Paul Harpur.
"My involvement in the Pro Bono Centre has proven to be personally, professionally and academically rewarding.    

I have undertaken a number of projects, varying from research used to inform systemic advocacy, through to manning the front desk at a community legal centre. Through these experiences, I have had the privilege of working with academics, community workers, legal practitioners and volunteers, who have inspired me through their dedication to important and demanding work which often goes unrecognised. 

It cannot be overstated how integral the law is to the lives of everyone. Unfortunately, most people cannot afford to pay for legal assistance. We, as members (and soon to be members) of the legal profession are in an incredibly privileged position, because we are able to understand and utilise the law.

I strongly encourage law students to engage with the Pro Bono Centre, not only will you be practically applying what you have learnt in the classroom, you will pick up useful skills, and you will have the satisfaction of knowing that you have made a valuable contribution to the public interest."
Mitree Vongphakdi
About the award
The UQ Pro Bono Publico Award is funded by a generous alumnus donor and comprises a $500 grant to go toward the registration fee and associated costs of attending a national conference concerning access to justice/pro bono matters. Congratulations Mitree.
The contributions made by UQ Law Students in the community through their participation in volunteer Pro Bono Centre opportunities, are outstanding in the change they make at all levels of client engagement, policy and future reform. 
Nominations for next year now open
Nominations for students graduating in 2022 are open until Sunday 27 November 2022. The 2022 winner will be announced at the UQ Law Awards ceremony in 2023.
Nominate yourself or a student you know for the UQ Pro Bono Publico Award