Intellectual Property Law
This course is an introductory level examination of the general law and statutory protection of intellectual property in Australia, while also placing it in an international context. The course seeks to develop students' understanding of the various forms of IP protection including copyright, passing off, trademarks, designs, patents, confidential information, circuit layout and plant breeders rights. The course will focus on subject matter that is protected, the pre-conditions for protection, the nature of infringement, and the remedies for infringement.
Topic:
Commercial Legal Practice
Duration:
Semester Long - Mondays 5-8pm
Topics covered
the underlying origins and purpose of IP protection
copyright
registered designs
trademarks, domain names and geographical indications
passing off
patents, including biological patents
plant breeders' rights
breach of confidence
trade secrets
database protection
contemporary issues for the digital age - computer programs; apps, tweeting, blogs and linking; service and content provider liability.
Who is the course designed for
Our CPD courses are available to professionals interested in contemporary legal issues.
Whether you're looking to acquire CPD points, expand your knowledge in a specific area of the law, or gain a general understanding of legal issues impacting your profession, our courses will equip you to go further in every possible future.
Style of learning
Our CPD participants benefit from small class sizes which encourage group discussion and debate, and 1-on-1 access to industry experts and leading researchers.
Enrolment options
Register for Continuing Professional Development
---
 Enrol as a part of a Masters degree program
This course is part of the Masters of Laws postgraduate program.
CPD enrolment closes two weeks prior to the course start date.
No entry requirements apply, you are not required to submit assessment and your course participation cannot be used as academic credit towards a degree qualification.
Our courses count toward Queensland Law Society Continuing Professional Development (CPD) points if you can demonstrate relevance to your legal practice.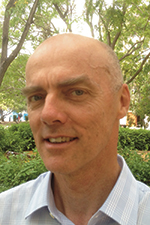 Tom Joyce is a law graduate of The University of Queensland. He also holds a Master of Laws from the London School of Economics where he specialised in intellectual property, and is admitted as a Barrister of the Supreme Court of Queensland. As the former University of Queensland Copyright and Library Lawyer Tom advises extensively on any aspect of copyright which affects the organisation.