Hear from our winners
The UQ Jessup team share their experiences about the journey to the top, being crowned the champions of the Philip C. Jessup International Law Moot Court Competition in April 2018 in Washington, DC.
Not only do you develop incredible research and advocacy skills from the Jessup but you have a unique opportunity to make a global network of friends.

The success of our team ... is a testament to our university's exceptional resources, along with the support of the Jessup alumni and the wider mooting community. 

Mooting makes you creative. You are given a box of ambiguous facts and uncertain law, and asked to craft a convincing argument.

If there was ever a greater opportunity to challenge yourself, and discover the type of lawyer you want to be, look no further than Jessup.
A word from one of our coaches
The team was coached by two UQ law graduates, Camille Boileau (2014 World Champion) and Liz Stanley, and student and former Jessup mooter, Keilin Anderson.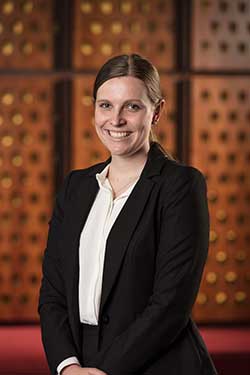 Keilin, talks about the Jessup and being coached herself.
Participating in Jessup was, by far, the hardest but also most rewarding experience during my time at law school. Coaching the 2018 team has allowed me to give back to the competition and community that gave me so much. I feel very proud to be apart of the incredible network of Jessup alumni across the world. These Jessupers, along with the wider profession, from recent graduates to Supreme and Federal Court Judges pitch in every year to help UQ teams prepare.

Professor Anthony Cassimatis, who coached me, has created an incredible legacy of success that is founded on always getting our international law right and relishing each educational challenge as opposed to seeing it as a competition.

I cannot imagine graduating without the resilience, initiative, research, drafting and advocacy skills but also the networks, friendships and opportunities that Jessup has given me.  
About the Jessup
Mooting competitions are mock legal hearings in which legal or factual arguments are presented in a hypothetical case before a judge, tribunal member or arbitrator. The Philip C. Jessup International Law Moot Court Competition (Jessup) is the world's oldest and largest international mooting competition, with more than 600 law schools from all around 95 countries regularly competing. The competition involves teams, each with up to five law students, making written and oral submissions on a detailed problem involving issues of international law.
The Jessup moot competition is extremely competitive. Because of the number of teams competing each year, national and regional qualifying rounds are organised around the world. The Australian qualifying rounds are normally held in February in Canberra.  The Australian final is held in the High Court of Australia and is presided over by a Justice of the High Court. UQ teams have an extraordinarily proud history in the Jessup moot competition, being one of the most successful Australian teams in the international finals in Washington DC.
Mooting at UQ
UQ has a strong reputation in mooting competitions nationally and internationally. The University is committed to providing students with the highest standard of legal education to equip them with the skills to successfully practice their profession in a dynamic and demanding environment.
Working with The University of Queensland Law Society (UQLS), the TC Beirne School of Law supports UQ's internal and external mooting programs, providing students with the opportunity to build confidence in public speaking, develop research and presentation skills, and prepare for their professional lives beyond law school.
UQ moot teams are coached by academic staff and alumni of the mooting program, and are supported through the financial assistance of sponsors and partners, and the help of the legal profession, alumni and judiciary.
Find out more about mooting at UQ.
Support UQ mooting
Individual donations
Help students become the advocate and leader they want to be by supporting moot competitions at UQ.
To make an individual donation, please visit our Giving page.
Corporate sponsorship
Gain exposure for your firm name and logo at guest lectures and functions, on the law school's mooting web page with a direct link to your firm's web page, in mooting program publications, and at mooting-related functions.