In 2015, MASLU organised and convened a workshop on Transboundary Maritime Environmental Pollution from 20-22 May 2015 on behalf of the Department of Foreign Affrairs and Trade (DFAT), and in conjunction with the Australian Maritime Safety Authority (AMSA). The Workshop was held as part of Australia's support for the Expanded ASEAN Maritime Forum (EAMF) Expanded ASEAN Seafarers' Training (EAST). It was co-chaired by Australia (Mr Jamie Storrie, Acting General Manager, Marine Environment, Australian Maritime Safety Authority) and Vietnam (Mr Le Dai Thang, Deputy Director, Bureau of Marine Resources Control and Marine Island Environment Protection, Ministry of Natural Resources and Environment).
Designed and delivered by Professor Craig Forrest (MASLU) and Mr Jamie Storrie, the Workshop featured a number of keynote speakers, including Ms Colleen O'Hagan, Technical Officer, International Maritime Organisation (IMO); Mr Alex Hunt, Technical Team Manager, International Tanker Owners Pollution Federation (ITOPF) and Mr Said Faisal, Director, ASEAN Coordinating Centre for Humanitarian Assistance on disaster management (AHA Centre). MASLU staff members Professor Nick Gaskell and Adjunct Professor Michael White QC presented the majority of the learning material on day one of the Workshop.
Participating delegations were from Australia, Cambodia, Indonesia, Japan, Laos, Malaysia, Myanmar, New Zealand, Philippines, Vietnam, Korea and the United States. The Workshop examined existing international, regional and national mechanisms for cooperation in transboundary marine pollution incident and considered other regimes, mechanisms and good practice that may enhance this existing regime and further cooperation in transboundary marine pollution incidents. A number of pollution incidents were examined and reviewed for lessons learned including the Torrey Canyon spill in 1967 and more recent spills such as the Prestige, Rena, Deepwater Horizon, Montara  as well as spills caused during Typhoon Haiyan.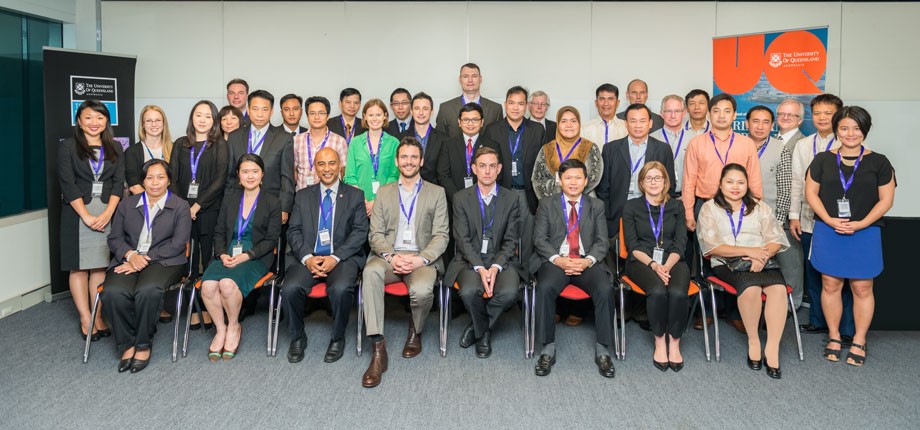 ---
Organised by the Australian Department of Foreign Affairs and Trade, the workshop is being hosted by the Australian Maritime Safety Authority and the Marine and Shipping Law Unit, TC Beirne School of Law, University of Queensland.
About MASLU events
The Marine & Shipping Law Unit (MASLU) is a community of scholars within the TC Beirne School of Law at The University of Queensland. We aim to achieve international recognition for scholarship, research and consultative skills in maritime law, international law of the sea, and related areas.