The Pro Bono Impact 
Our 2019 mid-year update
Welcome to our 2019 mid-year UQ Pro Bono Centre news.
The first half of 2019 has been busy and exciting in the Pro Bono Centre. Our two thematic priorities over this period have been supporting the Human Rights Act 2019 and building connections in Asia and the Pacific (with a focus on PNG). We have also continued to focus on environmental sustainability, indigenous rights, legal issues facing people with disabilities and refugees, and conditions for people in prison.
Bridget Burton
Acting Director, UQ Pro Bono Centre
Supporting human rights in Queensland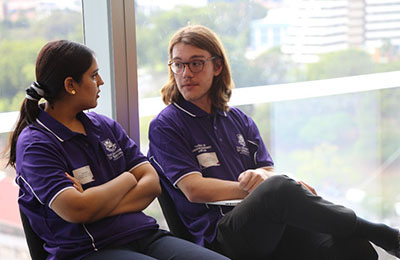 Pro Bono Centre students undertook human rights related research for a range of community legal centres in Queensland including Queensland Advocacy Incorporated, Women's Legal Service and the Prisoners Legal Service. Students and PBC staff also led two internal UQ Law projects with significant engagement and impact.
The Right to Education project involved community engagement and the preparation of responsive education materials. Students learned about exchange and empowerment in community legal education; how to brief and educate a group in the community on an issue of importance, how to listen to community members, and then to respond with further content that addressed their specific needs and concerns.
In March 2019 students also helped facilitate an invitation only workshop on Forensic Mental Health and Human Rights in partnership with academics in UQ Law and the Queensland Centre for Mental Health Research.  The eight students involved in this project prepared comprehensive briefings mapping pathways for people with mental illness in the criminal justice system.  The workshop, attended by policy makers, academics and practitioners was thought provoking and practical.
This is fantastic and a wonderful synthesis of available international legal options…Once again, thanks for this. It certainly will inform our thinking and advocacy.

Angela Lynch
CEO
Women's Legal Service 
2018 Pro Bono Publico Award presented to Keilin Anderson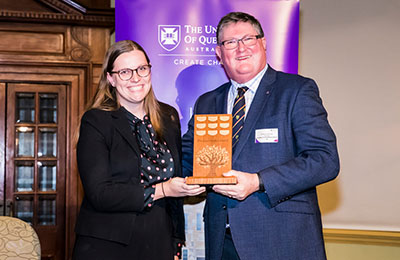 In May the UQ Law Awards saw nearly 200 individuals recognised for their contributions to pro bono work over the year prior. Randal Dennings, chair of our advisory board, was thrilled to present the 2018 Pro Bono Publico prize to graduating student Keilin Anderson in recognition of her extraordinary contribution to the community through pro bono work over the course of her degree.
It was a pleasure to witness Keilin Anderson receive the Pro Bono Publico award in May.  Keilin was a member of the student advisory board and a significant contributor to the Pro Bono Centre and a valued mentor to many Pro Bono Centre students over her time at UQ.

Bridget Burton
New clinical legal education program teaching culturally safe lawyering launched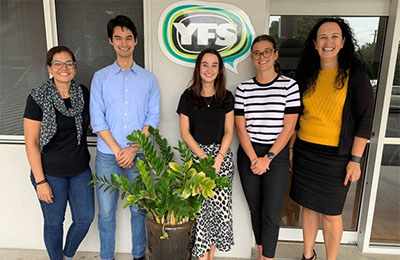 For some time students have been asking for a clinical legal education program that works with Aboriginal and Torres Strait Islander clients. There has also been unmet demand for criminal law experience. In 2019 we were pleased to begin offering a new clinical experience to meet both these needs, with law students able to work and learn in a youth justice criminal law practice under supervision of an Indigenous lawyer Candice Hughes.
Feedback from students in the inaugural semester 1, 2019 group was extremely supportive:
When clients are vulnerable and marginalised children, Candice and Danielle from YFS have shown me how lawyers have an opportunity to be a stable adult presence for the child.

Edward
I've learnt that it's ok to show some emotion and empathy, as long as you can maintain your professional position with enough detachment to the situation. These kids have done a lot of wrong, but some of them just need someone to be there for them, fighting for them and believing in their successful rehabilitation.

Georgia

To be a good solicitor to this demographic of clients, one must first be a 'friend'. I say friend in the sense that the best method for working with young Indigenous clients is to form a connection. Whether that be playing a game of cards with them while going through the QP9 or taking them outside under a tree to talk and give legal advice.

Christabelle
Supporting the rule of law in Asia and the Pacific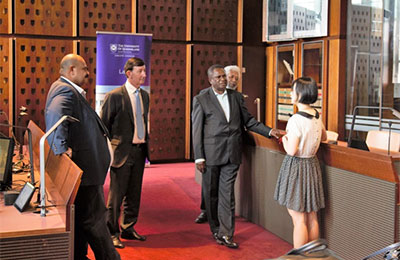 Pro Bono Centre students undertook research into critical human rights issues for the region including modern slavery, human trafficking and the use of the death penalty with the Global Pro Bono Bar Association, Reprieve Australia and other organisations.
Our ongoing relationship with the PNG Supreme and National Courts led to a major piece of research on banking law delivered to the Chief Justice Sir Gibbs Salika on his visit to the UQ in March.  Student Yana Wu was one of the three students who worked extremely hard on this piece of work and she was pleased to present it to His Honour and to join him and his colleagues for lunch.
Environmental protection in our region remains a strong area of interest for our students and for the Pro Bono Centre generally. In this period several groups of students have engaged in legal research to support the work of the Centre for Environmental Law and Community Rights in PNG, as well as the Environmental Defenders Office in Brisbane. We were also again pleased to facilitate a great group of students spending time in Borneo considering environmental sustainability with Future Law, an environmental law firm based in Kota Kinabalu.
The UQ Pro Bono Centre's 10th Anniversary
This year the UQ Pro Bono Centre is turning 10!
We are holding a celebratory event on 5 September 2019 in the beautiful Banco Court, mirroring our launch in the old Banco Court in 2009. The event will give us an opportunity to reflect on the role of service in developing leaders for today's, and tomorrow's, legal profession. We have an esteemed panel of established and emerging speakers, hosted by our patron Justice Applegarth.
Farewell, Bridget; welcome back, Monica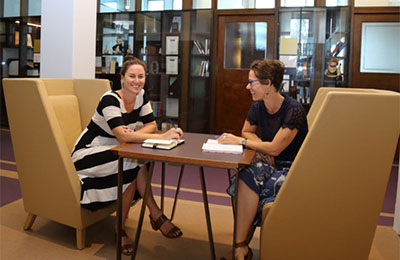 July 2019 sees us farewelling Bridget Burton who is returning to her role as Director, Human Rights and Civil Law Practice at Caxton Legal Centre. We simultaneously welcome back Monica Taylor.
I have loved being at UQ this past 18 months and leading the UQ Pro Bono Centre. Thank you for welcoming me, being patient while I too learn, and for inspiring me with all your hope and energy. This is not goodbye! I will see many students again as colleagues (I have no doubt about that) and I intend to continue to pester all the wonderful UQ Law academic staff well into the future 'for the public good'.

Bridget Burton
Goodbye and thank you, Jennifer Gibbons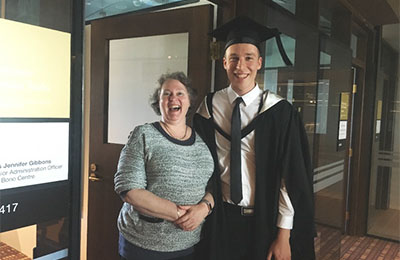 We also farewell the indefatigable Jennifer Gibbons our wonderful, energetic administration officer as she retires this month.  Jennifer is well known to partners, students and colleagues as a fierce advocate for pro bono work, the Pro Bono Centre, the Law School and our students.  She will be dearly missed and has our best wishes for her retirement.
I would like to take the opportunity to thank Jen for her years of service to the School, and particularly her six years working with the PBC.  Jen has helped shape the PB Centre to be a space where all students are welcome. Her dedication to our students, and her connection with all facets of our pro bono community - barristers, law firms, CLC staff, judges etc. is remarkable, and it is what we will miss most. Thank you Jen for everything. You will always be at the heart of the PBC's story.

Monica Taylor  
STUDENT REPORT | Transitioning to adulthood: An overview of the impact of the law when a young person with autism spectrum disorder transitions to adulthood

Mitree Vongphakdi awarded the UQ Pro Bono Publico Award for 2021

Undergraduate law students Louis Laing, Kirsty McRuvie and Georgia Whybird share their experience participating in the Summer 2021 virtual internship with Justice Centre Hong Kong, facilitated by the UQ Pro Bono Centre as part of LAWS5233 Transnational Perspectives in Law.

SPEECH | Jo-Anne Bragg, General Counsel for the Environmental Defenders Office, talks about cultural change and the legal profession.
Support the UQ Pro Bono Centre
The kind donations of our supporters enable the Centre to continue to help the most disadvantaged in our community to access justice and teach our students the value of pro bono work.