LAWS7708 Intellectual Property Law
This course is an introductory level examination of the general law and statutory protection of intellectual property in Australia, while also placing it in an international context. The course seeks to develop students' understanding of the various forms of IP protection including copyright, passing off, trademarks, designs, patents, confidential information, circuit layout and plant breeders rights. The course will focus on subject matter that is protected, the pre-conditions for protection, the nature of infringement, and the remedies for infringement.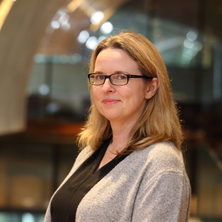 Dr. Allison Fish is an interdisciplinary scholar whose research lies at the intersections of law, socio-cultural anthropology, and science and technology studies. She has completed higher degree studies in law (JD), public administration (MPA), and anthropology (PhD). Prior to joining UQ, Dr Fish was an assistant professor in the School of Informatics & Computing at Indiana University.
Course information
Course code
LAWS7708
CPD
This course may also be taken as a CPD course or a non-award course.