LAWS7863 Admiralty Jurisdiction and Practice
No aspiring maritime or shipping lawyer can claim to be competent in the field without some knowledge of the law relating to admiralty claims. Such knowledge is invaluable to anyone who aspires to work in shipping or international trade, whether as a lawyer in a law firm, as an in-house legal advisor, or in a P & I Club.
This course focuses on the admiralty jurisdiction and procedure of Australia, with reference to English law and the jurisprudence of other jurisdictions, such as South Africa and Singapore, as well as international conventions on arrests of ships and on maritime liens and mortgages.
After successfully completing this course students should be able to demonstrate a broad, but detailed, understanding of the main elements of admiralty jurisdiction and practice.
Topics covered include:
historical background of admiralty
the nature of admiralty jurisdiction
maritime and statutory liens
possessory liens
the exercise of admiralty jurisdiction
admiralty procedure
priorities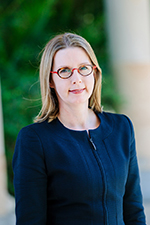 Professor Derrington is UQ Dean of Law and a barrister practising exclusively in shipping law. She serves on the Australian Maritime Safety Authority, the Admiralty Rules Committee (Cth) and the Maritime Law Association of Australia and New Zealand.
Sarah's research interests lie in the areas of admiralty jurisdiction and practice, marine insurance and the carriage of goods by sea. Her recent work has included an examination of the origin and scope of the admiralty and maritime jurisdiction in the Australian Constitution.
As a co-rapporteur of two international working groups, Sarah's work examines multijurisdictional approaches to the application of international principles of maritime law and their impact on domestic admiralty regimes.
Course information
Course code
LAWS7863
CPD
This course may also be taken as a CPD course or a non-award course.