LAWS7876 Carriage of Goods by Sea
The vast majority of worldwide imports and exports are carried by sea, whether in bulk form, for example, oil, grain and coal, or as containerised cargo. This course covers the contracts for the carriage of such goods by sea, including charterparties and bills of lading, as well as the legal problems facing shipowners, charterers, shippers and receivers of goods in a commercial context. Students will consider the solutions adopted in the standard form contracts used worldwide, and the interpretation of them by the courts in the context of mandatory international conventions such as the Hague-Visby Rules (as enacted in national legislation).
The course is designed for domestic and international lawyers wishing to understand more about international trade and shipping. Many of the legal principles involved are not restricted to shipping, but serve the wider area of international commercial law generally. For those wishing to specialise in maritime and international trade law, this course can be combined with any of the other courses in the International Trade and Maritime Law streams.
Topics covered include:
maritime and commercial background
negotiating a charterparty – shipbrokers
basic obligations in the carriage of goods by sea
time charters
voyage charters
bills of lading: functions
bills of lading: standard clauses and cargo claims
multimodal transport issues
Hague/Hague-Visby rules  
reform: the Rotterdam rules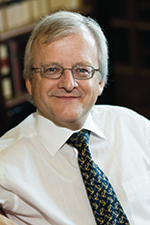 Nick Gaskell is a Professor of Maritime and Commercial Law at the TC Beirne School of Law. Professor Gaskell has nearly 40 years' experience teaching maritime law to students, legal practitioners and maritime professionals, both in Australia and throughout the world. He was previously Director of the Institute of Maritime Law at the University of Southampton, UK, and has participated in many diplomatic conferences which have produced international maritime law conventions. He has wide experience of the practice of maritime law as a barrister in Quadrant Chambers, London, and his book Bills of Lading: Law and Practice has been referred to by courts and academics internationally.
Professor Craig Forrest is the Director of the Marine and Shipping Law Unit, and Fellow of the Centre for Public, International and Comparative Law. Professor Forrest teaches and undertakes research in the areas of maritime law, private international law and cultural heritage law. He has published widely in these areas, and contributed directly to national and international public policy development through advice and workshops provided to the United States, United Kingdom, South African and Australian governments, and directly to the drafting of national legislation and international law. In maritime law, Professor Forrest has provided advice to both government and the industry in relation to the law of the sea and wet maritime law. He supervises United Nations Division of Ocean Affairs and Law of the Sea Nippon Fellows.
Course information
Course code
LAWS7876
CPD
This course may also be taken as a CPD course or a non-award course.