LAWS7930 Special Topic C - International & Comparative Competition Law
Competition/antitrust law plays a significant role in the economy of individual countries and their welfare. At the same time, it has an enormous impact on the ways in which companies and other entities, including multinational corporations, conduct their businesses in the competitive environment.
This course analyses and compares competition/ antitrust law regimes in the USA, the European Union and Australia and explores, among other things, internationally significant cases, in particular, global cartels. It begins with an analysis of legal and economic concepts of competition law and continues with a comparative examination of specific issues and selected significant areas of competition/antitrust law, such as cartels and monopolies.
International & Comparative Competition Law is designed for lawyers and other professionals interested in competition (antitrust) law. Successful completion of the course should provide students with the skills to critically evaluate and identify the positives and negatives of any competition law regime and the ability to compare and solve competition law problems at both national and international level.
Topics covered include:
introduction to Australian competition law, EU competition law and US antitrust law
legal and economic concepts of competition law
objectives of competition law
cartels
monopolies and abuses of market power
vertical restrictions
enforcement
international implications and impact
The course is delivered by Dr Jedlickova and a number of distinguished guest lecturers.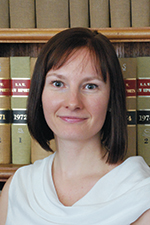 Dr Jedlickova is a Lecturer and researcher in comparative competition law. Her research and teaching experience involves Australian, EU and US jurisdictions. Previously, she worked as a Contract Officer in the UK, a lawyer in the Czech Republic and she was trained in competition law at the European Commission, at the Directorate General for Competition in Brussels. She has undertaken research in competition/antitrust law in the UK, US and Australia and taught in Australia and the UK. Barbora holds a PhD and Master of Laws from the University of Glasgow in the UK and a Master in Law and Legal Studies from Masaryk University in the Czech Republic. She is a Fellow of the Centre for Public, International and Comparative Law at the University of Queensland.
Course information
Course code
LAWS7930
Dates
20, 21 Sep; 4, 5 Oct 2018