Advance your career with world-class postgraduate legal study
Whether you are interested in degree programs, individual courses or pursuing original research, we provide an outstanding environment for postgraduate learning and discovery.
Course delivery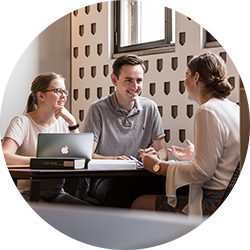 All our courses are delivered face-to-face by leading scholars and members of the judiciary to small groups at UQ St Lucia. This personalised learning environment will encourage you to achieve at the highest level. You will feel a genuine sense of belonging, and can grow your professional network from day one.
Teaching is enriched by cutting-edge research in specialist fields, and your private postgraduate study is supported by Queensland's best academic library services.
Study commitment
Enrol to suit your availability. Typically, postgraduate students who are working full-time will take one or two courses per semester. Courses are generally delivered over a semester, or as an intensive that runs for 4 days. 
Courses can also be taken individually, without enrolling in a program.  
Postgraduate study week
From Monday 29 October to Friday 2 November, we invite you to navigate the world of postgraduate study with us, so you can go further in every possible future.
Masters programs
International Law
For law and non-law graduates. Study how international law shapes almost all forms of global interaction, from business and trade to diplomacy and acts of war.
Dual programs
International Relations/International Law
International Law is available as a dual program with the Master of International Relations. 
MIR/MIL program details and apply
International Commercial Law/Commerce
International Commercial Law is available as a dual program with the Master of Commerce. 
Individual courses
If you would prefer not to enrol in a program, you can take individual courses in one of two ways. 
Register for Continuing Professional Development
A selection of courses are available to take for professional development.  No entry requirements apply, you are not required to submit assessment, and your course participation may not be used as academic credit towards a qualification. 
Our courses count toward Queensland Law Society Continuing Professional Development (CPD) points if you can demonstrate relevance to your legal practice.
Browse courses available on a CPD basis
Enrol for academic credit
To gain academic credit, you may apply to enrol as a 'non-award' student.  Your enrolment is called 'non-award' because you are not seeking to be awarded a qualification at this point.  As a non-award student, you will be required to do course assessment and will gain academic credit for successfully completing the course.  You may seek credit for the course if you enrol in a program in the future.
You may apply to enrol in any of the courses listed in the Masters course lists as a non-award student. To see all courses, including specialist courses offered in alternate years, search all UQ courses. Find out more about enrolling as a non-award student or apply for entry. 
Students enrolled in a Master of Laws program at another Australian university may be eligible to enrol at UQ as a cross-institutional student for credit towards their study.  These students must gain the approval from their home institution before applying to enrol for cross-institutional study.
Fees
Fees for individual courses have to be paid up front.  To find out how much a course costs, look up 'postgraduate coursework fees', 'full-fee paying' under 'Law' in the fee schedule. Typically, fees for CPD registration will be half the price.  
Student experience

Katherine Matyja, Master of Laws
My lecturers and guest speakers were legal experts genuinely passionate about engaging LLM students. They have all worked in the field and understand the complexities of the law.

I developed research and analytical thinking skills, which are applicable in any legal field.

My LLM has given me the confidence to start working in a new area of law, knowing I have the legal foundation and support network to succeed.
Research opportunities
Short-term research experience
What is it like working as a researcher?  You can get a taste with a short-term paid research experience over the Summer or Winter holidays.  Find out more about Summer and Winter Research projects.
Higher Degrees by Research
A Higher Degree by Research involves in-depth study and original research to contribute new knowledge to the field of law.  Undertaking a Higher Degree by Research is an ideal way to start an academic career or to add an extra edge to professional practice. Find out more about our Master and Doctor of Philosophy programs.
International student support
First semester adviser
We provide extra support to help you adjust during your first semester.  You will have a dedicated International Student Adviser that you can go to about your enrolment and getting credit for previous studies.   
English classes
If you need help with English, free classes are available.  You can take English classes for postgraduate law or choose academic English classes that focus on speaking, reading, writing or listening skills.