The Women Lawyers Association of Queensland (WLAQ) hosted its Annual Awards dinner on Friday 30th October at the Stamford Plaza Hotel Brisbane.
Professor Sarah Derrington, Dean of Law, UQ TC Beirne School of Law presented Rosslyn Monro, Coordinator at Women's Legal service, with the Woman Lawyer of the Year Award.
This year's finalists for the UQ TC Beirne School of Law sponsored award included Rosslyn Monro along with Kathryn Pacey, Clayton Utz Lawyers and Katie Richards, Virtual Legal.
"Rosslyn Monro's contribution to the community legal sector, and to the Women's Legal Service in particular, has been outstanding and I congratulate her on her inspirational leadership within the sector," Professor Derrington said.
"The T C Beirne School of Law is privileged to be associated with such a worthy recipient of the Woman Lawyer of the Year Award."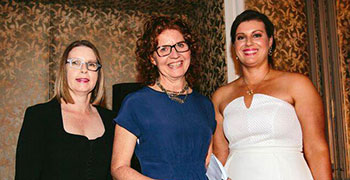 Cassandra Heilbronn, Vice-President of WLAQ highlighted the importance of the Annual Awards Dinner as "recognising and celebrating the outstanding achievements of women in law in Queensland". President, Amelia Trotman through her President's Address called for the Bar Association of Queensland and firms to do more to assist women at the private bar and emphasised the importance of flexible work arrangements.  A copy of Amelia's President's Address can be found here.
Cassandra said "The Awards are open to any woman holding a law degree who is actively involved in the legal profession or a law-related field in Queensland and in addition to the individual criteria required in each award category, each nominee must demonstrate professionalexcellence and integrity in her chosen field and, through her work and activities, have displayed awareness for the needs and concerns of women and contributed to the advancement of women in the law."
This years' event saw over 200 members of the legal profession attend at the Stamford Plaza, with Georgina Dent, former lawyer and Associate Editor of Mamamia, speaking on the night's theme of "the power of you" and calling on all women to navigate the way through their career on their terms. The 2015 Award winners were a testament to the high calibre of women in Queensland's legal profession and demonstrated their ability to navigate the well known issues facing women in the progression of their legal careers. Amelia congratulated all the finalists for theircommitment to progressing the objectives of WLAQ.
The 2015 award recipients were:
WLAQ Woman Lawyer of the Year, sponsored by TC Beirne School of Law, University of Queensland: Rosslyn Monro, Coordinator at Women's Legal Service
WLAQ Regional Woman Lawyer of the Year, sponsored by Faculty of Law, Bond University: Kristin Meikle, Senior Counsel at Bechtel
WLAQ Emergent Woman Lawyer of the Year, sponsored by Griffith Law School, Griffith University: Abbey Richards, Employment Law Coordinator at Caxton Legal Centre.
The Agnes McWhinney Award given by the QLS was to Michelle Morton, with Penelope White and Sarah Atkinson receiving outstanding achievement awards.