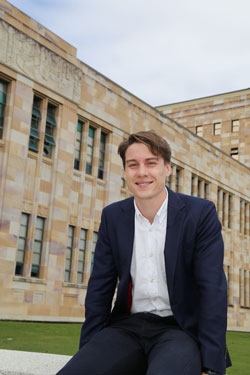 When Lachlan Campbell attends the G20 Youth Summit (Y20) in August as the Head of the Global Voices Australian delegation, he will be representing thousands of young Australians as part of a unique opportunity.
The University of Queensland law student, who will travel on a fully-funded scholarship provided by Global Voices, will be joined by four other young Australians who will make up the Australian Y20 Delegation to Istanbul.
"This is a massive opportunity for me and because I'm really interested in public policy, it's a great chance to be involved in the process on an international level," Mr Campbell said.
Mr Campbell, 23, is the Global Voices National Scholarship Recipient, and is currently studying a combined Bachelor of Laws and Bachelor of Economics at the University of Queensland.
The G20 Youth Summit (Y20) is the official youth engagement body of the Group of Twenty (G20) Leaders' Summit. Initially established in 1999, the G20 connects leading industrial and developing economies to discuss issues affecting the global economy. The 2015 Leader's Summit will be held in Antalya, Turkey in November.
The Y20 enables young leaders to discuss issues closely related to the topics of the G20 Leaders' Summit. The agenda of this year's Y20 will be developed during preliminary talks on the Y20 website. The major result of the summit will be the adoption of the Final Communiqué, which will be presented to the G20 leaders in November 2015.
"Attending this forum will allow me to voice economic issues that concern young Australians on a global stage. It's a unique opportunity for young people to influence the G20 agenda," says Lachlan.
Mr Campbell recently returned from preparatory activities in Canberra, where delegates met with the Prime Minister, the Hon Tony Abbott MP.  He is also completing a Research Fellowship with Global Voices as part of his experience. This will include the production of a research paper on an aspect related to the forum's agenda to be published by Global Voices.
Global Voices CEO, Amy Coetzee said: "This is truly a once in a lifetime opportunity for Lachlan." 
Established in 2011, Global Voices is a non-profit organisation whose mission is to provide opportunities for young Australians to engage with international policy both at home and abroad. It does this through regular events and research & development opportunities at home, along with the coordination of youth delegations to important diplomatic forums abroad.
Media:
Global Voices, Alexandra Wall, 0423 930 980, alex@globalvoices.org.au
TC Beirne School of Law, Nadine Davidson-Wall 07 3346 9263, n.davidson-wall@law.uq.edu.au