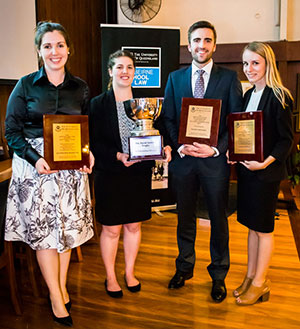 The fourth annual David Jackson Dinner was held at The Women's College, University of Queensland, on Tuesday 24 November. The Dinner was generously sponsored by North Quarter Lane Chambers and served to mark the considerable achievements of over fifty law students who participated in a wide range of mooting and legal skills competitions during 2015.
The function was hosted by Professor Sarah Derrington, Dean of the TC Beirne School of Law, and Associate Professor Peter Billings, Director of Mooting, and was attended by eighty guests including the Chancellor, Mr John Story AO, and many distinguished legal professionals including the Honourable Justice Logan RFD,  Mr Bernard McCabe, Mr Roger Derrington QC, Mr Phillip Hack SC, Mr John McKenna QC, Dr Damien O'Brien QC, Dr Dominic O'Sullivan QC, the Honourable Dr Margaret White AO, Dr Michael White QC, the Honourable Dr Glen Williams and the president of the QLS, Mr Michael Fitzgerald. The Honourable Justice James Edelman of the Federal Court of Australia delivered an engaging and entertaining after-dinner address, subsequent to which awards were made to the "Best Moot Team", sponsored by the QLS, which was won by the International Air Law Moot team who won the sixth Leiden Sarin International Air Law Moot Competition, in Beijing, in April 2015, and "Best Oralist in a Moot Competition, sponsored by the BAQ, which was presented to Mr Henry Meehan for his excellent advocacy in the Philip C Jessup International Law Moot Court Competition, held in Canberra during February. The Law School is very grateful to both the QLS and BAQ for their sponsorship of these Awards. Finally, Mr David Jackson AM QC presented the perpetual Jackson Trophy for 'Outstanding Advocacy' to Ms Elizabeth Stanley for her many successes (including two Grand Final appearances) in several different moot competitions over the past three years.
More photographs from the evening can be viewed here.