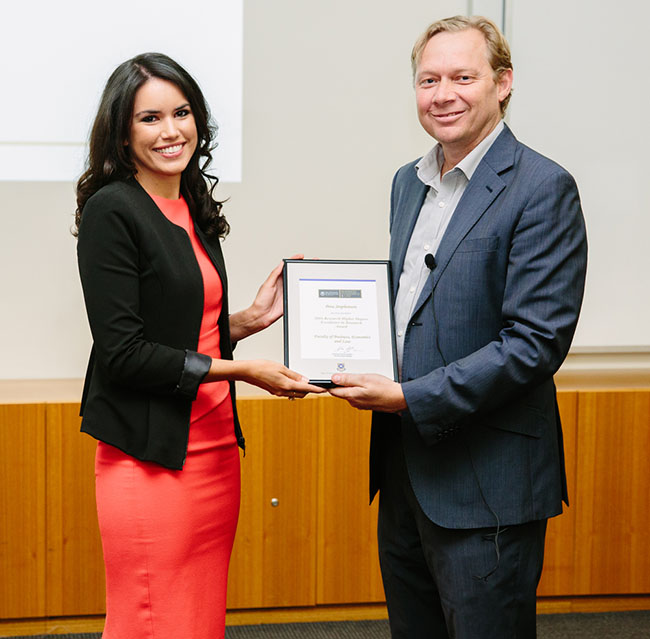 Peta Stephenson, a TC Beirne School of Law PhD student, was presented with the 2016 Research Higher Degree Excellence in Research Award last Wednesday. The award is highly contested for between research higher degree students in the three UQ schools of TC Beirne School of Law, School of Business, and School of Economics.
Peta's thesis is 'Measuring the Metes and Bounds of Commonwealth Executive Power: Nationhood and Section 61 of the Constitution'. Section 61 defines the limits of the executive power of the Commonwealth. The High Court of Australia has also recognised that Section 61 incorporates an implied nationhood power.
This power has supported activities carried out by the Commonwealth Government in the absence of legislation enacted by the Parliament, such as the commemoration of the Australian Bicentenary. The nationhood power also provided the constitutional basis for aspects of the Commonwealth Government's fiscal stimulus package in response to the Global Financial Crisis. The scope of executive power has undergone some expansion in recent years, making it an area of interest for legal scholarship.
"In my PhD thesis, I examine the origin and evolution of the implied executive nationhood power in the decisions of the High Court of Australia. I have developed a theory of this power that can be applied in future cases." Said Peta, discussing the relevance of the research.
"I hope that I can provide some much needed clarity in this area of constitutional law.
"My research has taken me on a fascinating journey through Australia's history. I have explored events leading up to Australia's attainment of nationhood and the influence they have had on the High Court's approach to constitutional interpretation."
Beyond the thesis itself, Peta has also contributed significantly to legal scholarship. She was a recipient of the 2016 Own Fletcher Postgraduate Research Publication Award, and has contributed articles to numerous leading law journals and conferences.