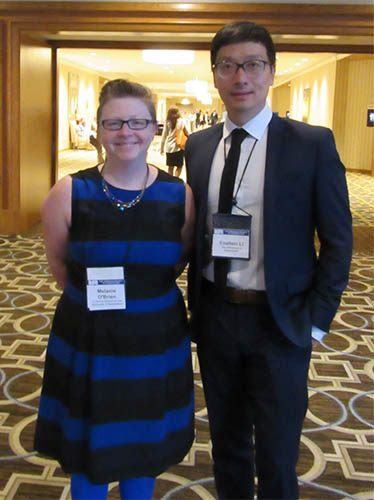 TC Beirne School of Law Postdoctoral Research Fellow Dr Melanie O'Brien and Lecturer Dr Enshen Li presented at the 41st American Society of Criminology Conference, at the Hilton Hotel in New Orleans, USA, November 16 - 19 2016.
Dr Li presented on the recent evolution and development of anti-terrorism laws in China. Dr O'Brien presented a comparison of Australian and US jurisdiction over their peacekeepers for sexual exploitation and abuse; and also co-presented with Dr Angela Dwyer (University of Tasmania) in a roundtable on gendered hate crime, speaking on Australian law and policing applicable to violence against women in social media. Dr O'Brien's attendance was funded by an Ian Potter Foundation Travel Grant.
The ASC Conference is the largest criminology conference in the world. 4000 attended this year, with up to 55 concurrent panel sessions running at one time.