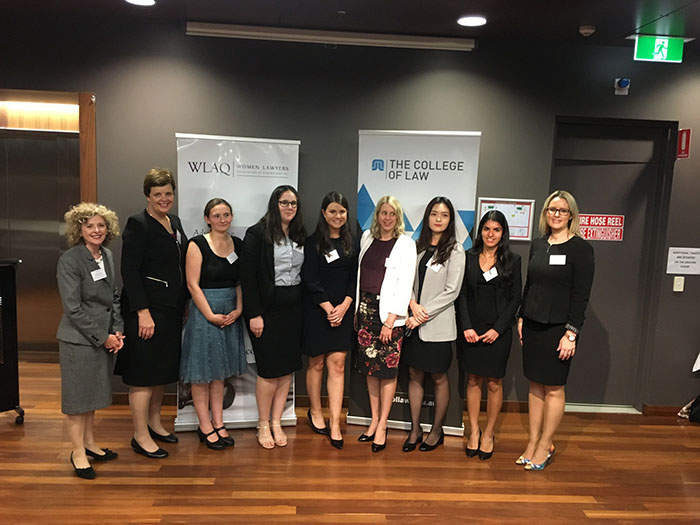 The University of Queensland TC Beirne School of Law's highest achieving female law graduate from 2016 was honoured at the Una Prentice Awards this week.
Ms Tanushree Venaik – who graduated with a Bachelor of Commerce/Bachelor of Laws (Honours) in December last year – was recognised after earning the highest GPA among the women in her graduating UQ law cohort.
The Women Lawyers Association of Queensland (WLAQ) Una Prentice Awards celebrate the best and brightest female law graduate from each law school in the state.
The awards are named for Ms Una Prentice, the first person to graduate from the Faculty of Law at UQ in 1938, the first female barrister admitted in Queensland, and the first female prosecutor for the Commonwealth Crown Solicitor.
Throughout her LLB, Ms Venaik was consistently one of the School's top students. She was awarded several Dean's Commendations for Academic Excellence and High Achievement, and earned several student prizes, including The Australian Taxation Reporter Prize (2015) and The Maria De Donatis Memorial Prize in Corporate Law (2015).
Ms Venaik said her time at UQ prepared her well for her current graduate job at a commercial law firm in Brisbane.
"Studying law at UQ has equipped me with valuable skills that have provided a solid foundation on which to pursue my professional career," she said.
"UQ also offers unparalleled academic and extracurricular opportunities. During my time there, I was fortunate enough to be involved in a number of student societies which allowed me to develop and apply myself outside of my studies."
The Una Prentice Awards are supported by the College of Law and funded by the generous bequest of Ms Prentice.
This year, The Honourable Justice Debra Mullins of the Supreme Court of Queensland presented the awards. She gave an inspiring address and spoke fondly of Ms Prentice's achievements.
For more information on the WLAQ Una Prentice Awards, click here.