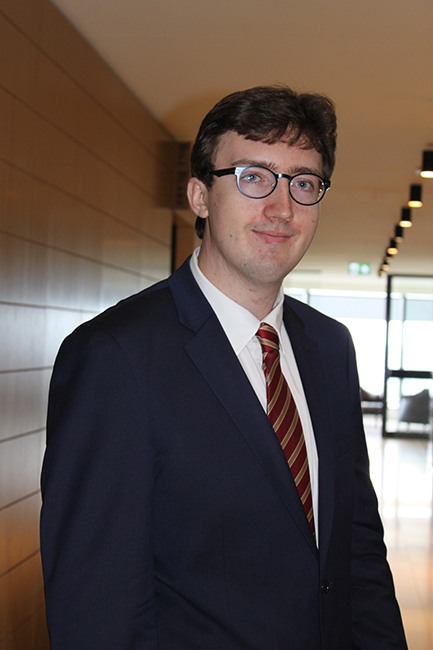 Aspiring barrister Sam Walpole is living proof that the harder you study the more successful you become.
Sam entered an esteemed group of The University of Queensland Alumni this month when he was named one of 10 University Medallists from the UQ Business School, School of Economics and TC Beirne School of Law.
He completed his Bachelor of Laws (Honours) with a GPA of 6.929 and now follows in the footsteps of some of former UQ University Medallists such as The Hon Justice Patrick Keane AC, Justice of the High Court of Australia, Judge of Appeal of the Queensland Supreme Court, the Hon Justice Anthe Philippides and Paris-based global head of public international law at Freshfields Bruckhaus Deringer, Ben Juratowitch QC, all of whom are alumni of UQ's internationally acclaimed TC Beirne School of Law.
University Medals are awarded to UQ graduates who achieved outstanding academic results throughout the duration of their program. A basic requirement is that the academic performance of each student who is nominated for a University Medal must go above and beyond the requirements of their degree.
Sam was one of four students from the 2016 LLB(Hons.) cohort awarded a University Medal. Other Medallists were Jordan English, Jaamae Hafeez-Baig and Michael Maynard. The quartet will be awarded their medals at the Graduation Ceremony in July.
Now based in Sydney where he is working as a Judge's Associate in the Federal Court, the former Cannon Hill Anglican College student said his decision to choose UQ as his preferred study location was an easy one.
"UQ was an obvious choice for me due to its reputation, extra-curricular life, beautiful environment and also because it allowed me to combine my legal studies with studies in psychology," he said.
"My initial desire to study law came out of a love at high school of debating, politics and current affairs which led to a desire to become a barrister."
Sam thanked his lecturers, his family and Head of Law School Professor Sarah Derrington, Professor Craig Forrest and Professor Kit Barker for their support and guidance through the duration of the degree.
"I am grateful to a number of lecturers who, from first year, inspired me to think about the deeper principles of the law and its application, and this motivated me to study and understand these myself," he said.
"Having a very supportive family also helped me a lot and this is something I am very grateful for.
"Finally, I was involved in extra-curricular activities and met a number of people that spurred my intrinsic interest in the field.  That motivated me to work hard and strive to be the best law student that I could be."
The other BEL students awarded a University Medal were:
Mohammud Hafeez-Baig Bachelor of Laws (Honours)
Jordan English, Bachelor of Laws (Honours)
Michael Maynard, Bachelor of Laws (Honours)
Thi Mai Anh Nguyen, Bachelor of Economics (Honours)
Suyash Mahto, Bachelor of Commerce (Honours)
Lingfeng Geng, Bachelor of Commerce (Honours)
Yuxia Zou, Bachelor of Commerce (Honours)
Wanting Sun, Bachelor of International Hotel and Tourism Management (Honours)
Rui Yan Leon Ng, Bachelor of Business Management (Honours)
Media: Grant Stockwell, g.stockwell@uq.edu.au, +61 7 3346 0700, + 61 455 464 802.