Five talented mooters from The University of Queensland came face to face with esteemed Nuremberg prosecutor Benjamin Ferencz during a trip of a lifetime to Washington D.C.   
The TC Beirne School of Law team – Josephine Allan, Keilin Anderson, Kate Cincotta, Sophie Ryan, and Benjamin Teng – travelled to D.C. in April for the international rounds of the 2017 Philip C. Jessup International Law Moot Court Competition, the largest and most prestigious moot in the world.
Undefeated in the preliminary rounds with a fourth place ranking – ahead of the University of Sydney, who would later win the grand final – the team finished as octo-finalists with several accolades to their name.
They met Mr Ferencz at the American Society of International Law annual conference, which was held in D.C. the same week as the competition. Mr Ferencz is the last surviving prosecutor of the 1940s Nuremberg trials, personally responsible for bringing 22 Nazi war criminals to justice.
Fourth-year student Ms Ryan said she was awestruck from the moment she met the legendary prosecutor.
 "When Mr Ferencz first introduced himself, he asked me 'are you going to help me save the world?'" she said.
"I said 'I hope so'! That's the question he asks whenever he meets people our age, and I think what he really means is, how could you not?
"He's a very inspiring person and everything he says you could take as one piece of advice to carry with you for the rest of your life.
"In the context of international law, he spoke about how important it is to have the courage not to be discouraged despite the current climate.
"If you look at his experience in particular – he witnessed some of the worst atrocities in history, and yet he's probably the most optimistic person I've ever met. He embodies what all of us want to achieve in our lifetimes through international law."
Sixth-year student Ms Allan agreed, quoting Mr Ferencz's other famous motto, "law not war".
"I love the law because I've always thought of it as a way that people can resolve their disputes without violence," she said.
"At the international level, states using international law instead of weapons is the only way forward if we're going to see change in the world.
"Talking to Mr Ferencz and being around hundreds of other mooters who are equally as passionate about international law…it made me think that we could really effect change and address issues like the refugee crisis and the global water shortage."
Ms Ryan said the meeting with Mr Ferencz was a "full circle" moment for the Jessup team.
"When our coach, Anthony teaches public international law, he plays a clip of Ben Ferencz which is our first introduction to the idea of 'law, not war' and what you can achieve in this field," she said.
"So to compete in the Jessup moot with that idea in mind, and to then get to meet the person who introduced us to that idea, with Anthony there beside us – it was really special."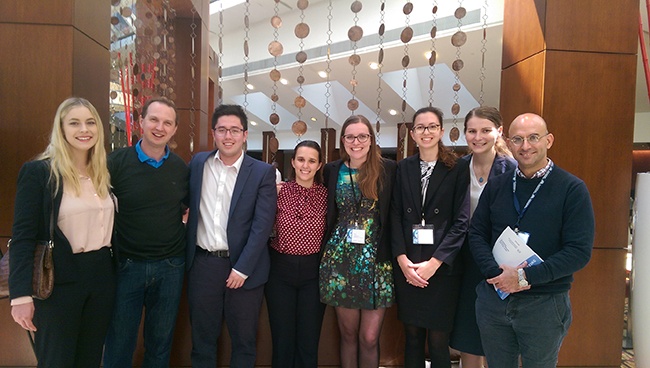 Affectionately dubbed "Team Flannies" by their peers, the Jessup team was coached by Professor Anthony Cassimatis and former Jessupers and alumni, Camille Boileau and Hugo Clark-Ryan. 
The team was the overall champion in the written component of the competition, besting 127 other teams from over 80 countries to win the Alona E. Evans Award for Best Memorials. Their respondent memorial was also ranked first globally. In the oral component, Ms Anderson and Mr Teng were ranked in the top 20 out of around 500 competing speakers.
Professor Cassimatis, who has been coaching Jessup moot teams for over 20 years, said he was incredibly proud of his team.
"It is deeply rewarding as a teacher to see your students achieving academic success in a global setting; it fills me with hope," he said.
Over 600 teams from 95 countries participated in the Jessup national rounds for the opportunity to compete internationally in Washington D.C.
After six months of preparation and dozens of practice moots, the UQ Jessup team took on the Australian finals in Canberra from 7-11 February, becoming one of only two Australian teams to advance to D.C.  
The annual competition asks mooting teams to solve an international controversy based on a fictional dispute between countries before the International Court of Justice, the judicial organ of the United Nations.
The 2017 moot problem focused on four key areas: legal compensation for states of asylum, sharing natural resources, protection of world heritage sites, and theft of cultural property.
The team's meetings with Mr Ferencz were filmed by the US television broadcaster CBS and were used in a US 60 Minutes program which was broadcast across the US last month. Watch in Internet Explorer.
Learn more about the TC Beirne School of Law mooting program here.