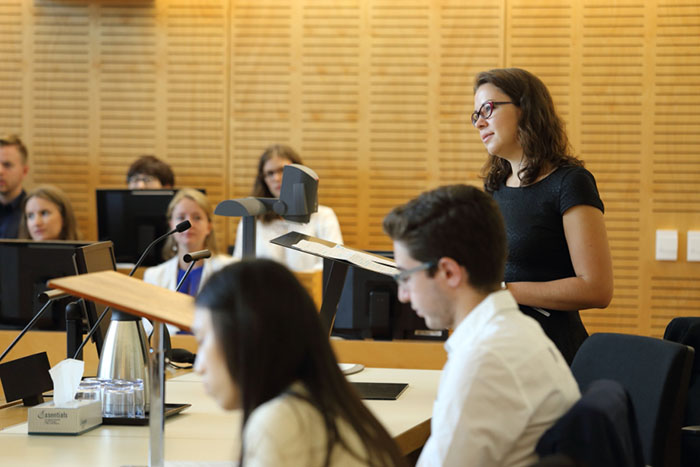 Staging a mock criminal trial inside Brisbane's Supreme Court of Queensland is all in a day's work for 29 University of Queensland postgraduate law students.
The TC Beirne School of Law students visited the court earlier this week as part of their assessment for the intensive course, Fundamentals of the Common Law.
Led by UQ alumnus and Judge of the Supreme Court of Queensland, The Honourable Justice James Douglas, students participated in a court hearing scenario and witnessed a real criminal trial. 
Fundamentals of the Common Law is a foundation course for postgraduate law students who are completing UQ's Master of Laws (LLM) or Master of International Commercial Law (MICLaw) programs without a common law background or undergraduate law degree.
Course coordinator Dr Barbora Jedlickova said the course – primarily aimed at international and exchange students – offered an overview of the common law-based Australian legal system.
"This semester's cohort includes students from Austria, China, Colombia, Denmark, France, Germany, The Netherlands, Norway, Russia, Spain, Sweden, Switzerland and Australia," she said.
"Many of these countries are civil law jurisdictions, so it's compulsory for those students to take this course. It gives students some basic knowledge of the common law system in Australia to help them succeed in their master's program.
"It's also just very beneficial for students to get that international perspective." 
The course is taught in intensive mode and starts during Orientation Week, giving students time to master the essentials before the semester begins. Students also learn how to prepare for exams in an Australian law school setting, and develop the legal research skills required to complete their program.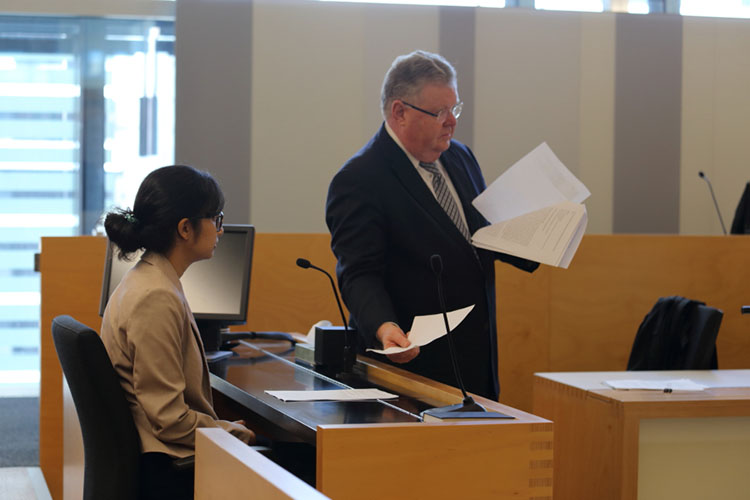 According to Colombian LLM student Carlos Ernesto Ariza, a course highlight was the Supreme Court visit.
"I enjoyed it because I think to truly learn you have to go outside the classroom and understand how the process works," he said.
"The visit was a really enriching experience, much different to just reading legal cases or preparing them for an exam or assignment because we were at the front lines of the court.
"If the course wasn't compulsory I would take it anyway! It's interesting to learn about a different system to my home country."
Dr Jedlickova said the mock trial was a great opportunity for students to test their legal acumen and newfound common law knowledge in a court setting.
"Students get a criminal case scenario and are assigned roles to play in court," she said.
"We have students playing witnesses, jurors, barristers, defendants, the prosecutor and the judge. They get to see the whole court room set-up and learn what it all means in practice.
"There are some pretty big differences between trials in common law and civil law countries. In countries like Australia, juries make their decision based on what they see and hear in the court room. In civil law countries, the focus is on written submissions and juries mostly don't exist.
"At the court visit, we try to help students master the art of presenting evidence and examining witnesses."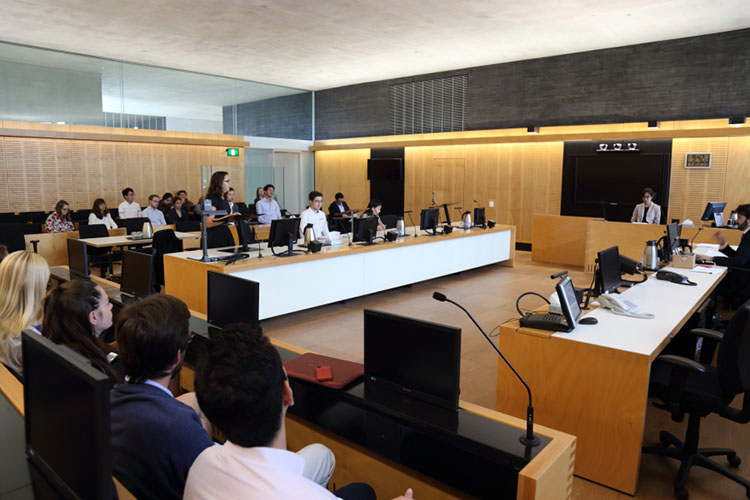 Dr Jedlickova said navigating the significant differences between legal systems can be challenging for new international students.
"I tell my students it's like throwing them in the water to teach them how to swim," she said.
"Of course, they will make mistakes but it's about learning how to do it.
"I want to thank Justice Douglas for guiding students through the mock trial and helping to improve their technique and understanding of the criminal trial procedure.
"Since 2013, His Honour has provided invaluable expertise to the course; his presence is a huge addition to the learning experience.
"I think even the students who are in the audience get a lot out of the interaction. When they see the process and try it for themselves, they have a much better understanding of how it works."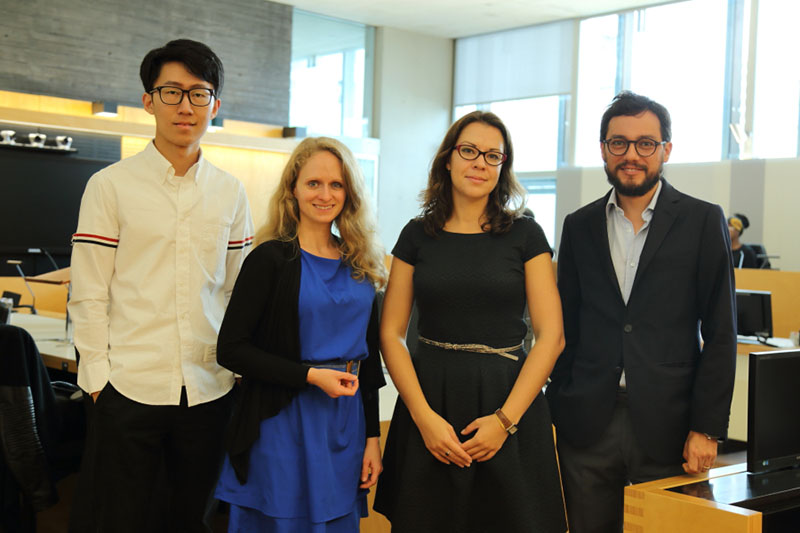 Austrian exchange student Sandra Hoegl said it was valuable to hear directly from the distinguished Justice Douglas.
"I enjoyed getting first-hand advice, especially regarding the most successful questioning techniques, and then seeing these techniques in practice in the real criminal trial," she said.
LLM student Penghao Ye agreed, noting that the most important thing he learned was "how to ask the right questions" in an Australian court setting.
"Knowing the differences between the judicial systems in Australia and my home country China will definitely help me to better deal with international affairs in my future career," he said.  
Russian LLM student Olga Nosova said she enjoyed being back in the court room.  
"I'm familiar with my country's court procedures, which are very different to Australia and what I'm used to," she said.
"Playing the role of prosecutor, I found it helpful to learn from Justice Douglas. He explained the process and the importance of effective communication with witnesses and the jury."
Mr Ariza said the court visit was a useful reminder of the importance of law.
"For me, as a professional and as a student, being in court reminded me that I really like what I'm doing," he said.
"When you start law, you feel passionate about defending all people and seeking justice in court. Of course, many people go on to work in different areas of law, but the visit was a kind of trip back to our roots as professionals of law and the good we can do."
Learn more about UQ's postgraduate law programs.