Professor Anthony Cassimatis from The University of Queensland's School of Law has received a prestigious national teaching award.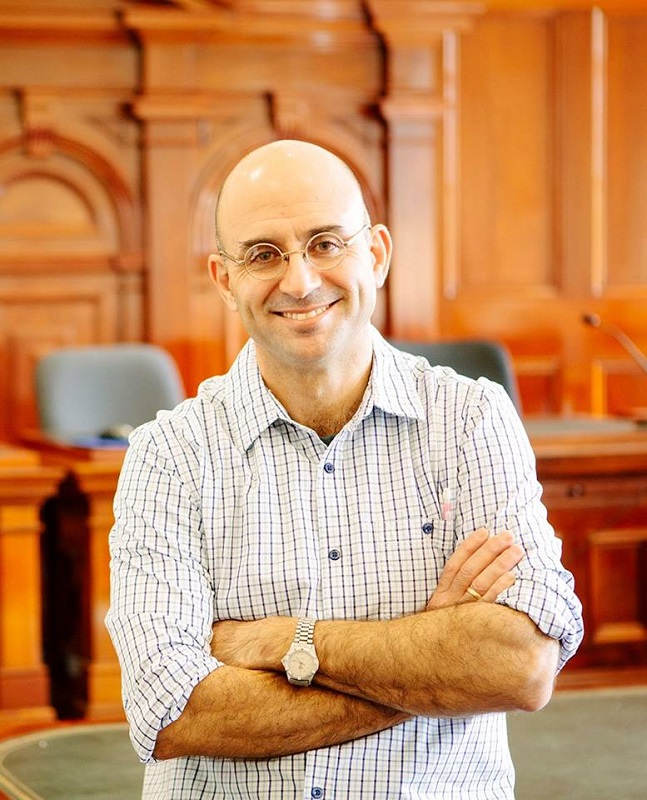 Professor Cassimatis' 2017 Citation for Outstanding Contributions to Student Learning, a category of the Australian Awards for University Teaching, recognises his leadership, innovation, and scholarship, and his efforts to create a global network of international lawyers to guide and inspire students to achieve excellence.
The public international law professor and Jessup moot coach said it was an honour to be acknowledged for his work.
"Only a small number of law academics have been recognised; it feels wonderful to be one of them," Professor Cassimatis said.
Testimonials from students, staff and members of the legal profession have flowed thick and fast since the announcement. Current Law Student of the Year and former Jessup mooter Milan Gandhi said the award was well-deserved.
"Professor Cassimatis' unparalleled passion for his subject matter is infectious," Mr Gandhi said.
"He is a generous and approachable teacher. As his student, you can't help but appreciate what you are learning for reasons far beyond the exam."
The Honourable Margaret White AO – a former Judge of Appeal of the Supreme Court of Queensland – said she knew Professor Cassimatis through judging several Jessup practice rounds and could not praise him highly enough.
"To my observation, Professor Cassimatis exemplifies all that is desired and ought to be aspired to in a university teacher," The Hon White said.
"He has achieved an enviable reputation among students who take his courses and has maintained close contact with high-achieving alumni. I would venture to suggest that it would be rare for so many alumni after so many years to be so engaged."
Since he began his UQ teaching career in 1993, Professor Cassimatis has amassed an impressive collection of accolades.
His achievements include several School-based teaching awards, a 2014 UQ Award for Teaching Excellence, a 1998 Australian Award for Excellence in Educational Publishing for his co-authored book, The Mooting Manual, and a strong track record as a mooting coach.
In 1996, Professor Cassimatis began coaching students competing in the Philip C. Jessup International Law Moot Court Competition – the world's oldest and largest legal advocacy competition, attracting teams from over 600 law schools in more than 80 countries worldwide.
Collectively, the 17 UQ teams under his supervision have won four Australian and five global research prizes, three Australian oral legal advocacy championships, and two oral legal advocacy world championships.  
Ever the innovator, Professor Cassimatis has worked tirelessly to transform and increase UQ's participation in the Jessup competition. Over the last 20 years, he has built up a vibrant global network of former students and competitors who are now senior national and international lawyers. These past students work with him to advise and support current Jessup mooters.
Members of the network include Melinda Taylor, a high-profile international criminal lawyer who has worked for the International Criminal Court, and Dr Benjamin Juratowitch QC, global head of the international law practice of Freshfields Bruckhaus Deringer.
Professor Cassimatis said the highlight of his teaching career was witnessing former students achieve the same kind of success post-graduation.
"They're brilliant and they would have succeeded without me but it is gratifying to know that I have helped," Professor Cassimatis said.
"The Jessup moot is great because you spend months with a small group of five students. That's where I do the most value-adding – helping students with research, challenging them to go further, and putting them in front of past students who have challenged them as well.
"Many of my students have built on the educational opportunities I gave them to rise to leadership positions in international law."
Head of School and Dean of Law, Professor Sarah Derrington, said she was deeply grateful for Professor Cassimatis' work over the past two decades.
"Professor Cassimatis is admired and respected by students and staff alike for his contributions to our public international and administrative law courses, and of course, to our Jessup mooting teams," Professor Derrington said.
"This award highlights his ability to inspire our students to aim for excellence in everything they do."
Professor Cassimatis is one of only 89 Australian individuals and teams honoured in this award category, and one of only three winners from UQ.
The Australian Department of Education and Training will host an event for Queensland citation winners on Thursday 5 October at Customs House.
UQ winners will also be congratulated at the UQ Excellence in Teaching and Learning Awards ceremony, to be held on Monday 30 October during Teaching and Learning Week.