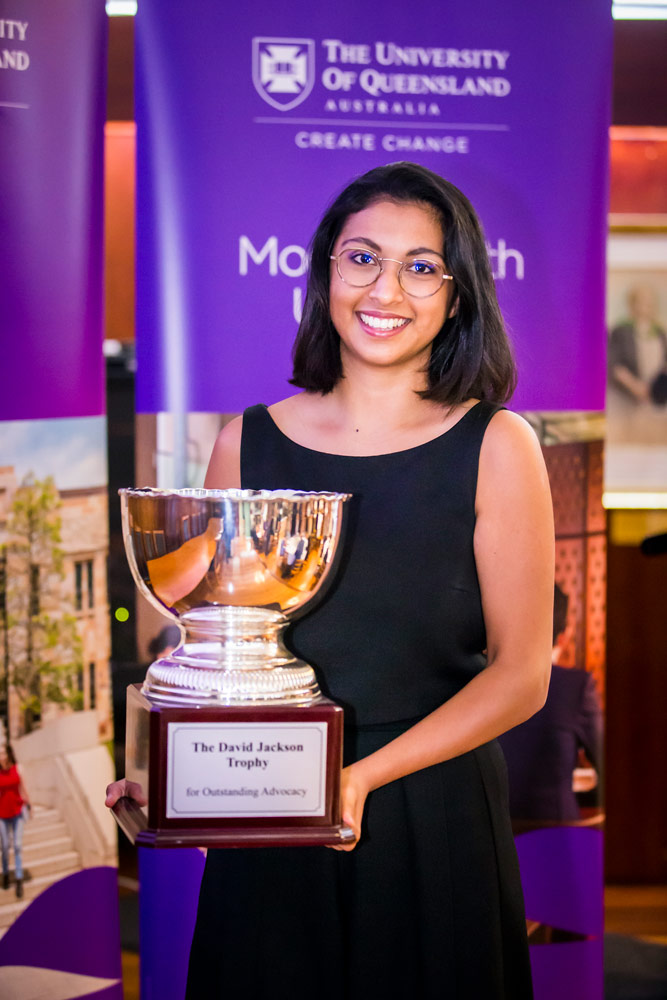 University of Queensland law students have been acknowledged for their outstanding mooting achievements at the Law School's seventh annual David F Jackson Mooting Dinner.   
In 2018, more than 40 students participated in mooting competitions, winning three major titles – the Philip C Jessup International Law Moot Court, the International Maritime Law Arbitration Moot and the Aboriginal and Torres Strait Islander Students' Moot.
Academic Dean and Head of School Professor Patrick Parkinson said 2018 had been a year of unparalleled success for UQ mooters.
"I want to congratulate all of the students who have so ably represented UQ Law on the national and international stage, and all those others who have contributed to the program as volunteer judges, coaches and organisers," Professor Parkinson said.
"I would like to thank the members of the legal profession who have given up their time to support the mooting program.
"These relationships make it possible for us to work with both law and non-law partners to develop educational experiences that provide students with practical skills that are valued by employers in any profession."
Winner of the David F Jackson Award for Outstanding Advocacy Sangeetha Badya said mooting had been one of the most enjoyable aspects of her studies.  
"Mooting is always a team effort, and I have to thank the community of students, coaches, academics and professionals that have contributed to my achievements," Ms Badya said.
"Being involved in the mooting program at UQ has given me more confidence, improved my written and oral advocacy skills, and allowed me to make long-lasting friendships. 
"Mooting has encouraged me to be persuasive, a critical thinker and most importantly, an effective team member. 
"These skills are transferrable to legal practice and will assist my advocacy in any context, whether it is the negotiation of a deal, the presentation of submissions before a court, the formulation of a case for reform or a conversation with a prospective client."
The Bar Association of Queensland Award for Best Oralist in a Moot Competition was Mr Edward Watson.
The Queensland Law Society Best Moot Team Award was a tie between The Philip C Jessup International Law Moot Court Competition Team and The International Maritime Law Arbitration Moot Team.
UQ law graduate and Justice of the Supreme Court of Queensland Soraya Ryan QC addressed students and guests at the dinner.
The annual David F Jackson Mooting Dinner is an opportunity for the Law School to acknowledge and celebrate both team and individual mooting performances, and to thank students, coaches and supporters for participating in the UQ mooting program.
The dinner is named after the School's esteemed alumnus and pre-eminent barrister Mr David F. Jackson AM QC.