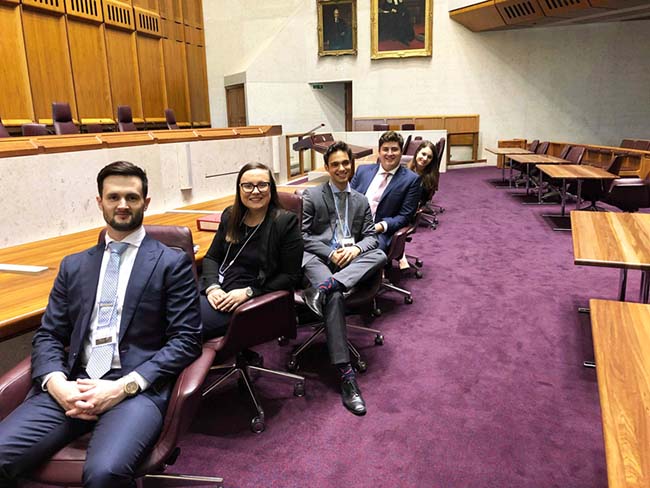 The University of Queensland's TC Beirne School of Law will once again send a team to Washington DC to compete in the prestigious Philip C. Jessup International Law Moot Court Competition.
Although the UQ team lost narrowly to the University of Sydney in the nail-biting Australian grand final at the High Court, both teams qualified for the international rounds of the competition in April.
The team – students Olivia Duce, Kyle Eggins-Allman, Josh Halikos, Laura Heit and Joshua McKersey – will defend UQ's world title from the 2018 competition.
Academic Dean and Head of School Professor Patrick Parkinson said he was thrilled with the UQ team's achievements.   
"Congratulations to our students and their coaches on another outstanding Jessup success story," Professor Parkinson said.
"We look forward now to Washington.
"I would also like to thank the UQ Law School staff and alumni who contributed to the team's success, from judging practice moots to arranging travel."
During the Australian rounds, teams from 17 law schools around the country set out to solve this year's Jessup problem involving an International Court of Justice case between the fictional states of Aurok and the Republic of Rakkab and their hunting of the Kayleff Yak.
The problem raises many different issues in international law, including the protection of endangered animals and the rights of Indigenous peoples.
The UQ team won best overall memorials, best respondent memorial and third best applicant memorial for their outstanding legal research and advocacy.
Ms Heit was also named fifth best speaker in the preliminary rounds of the competition.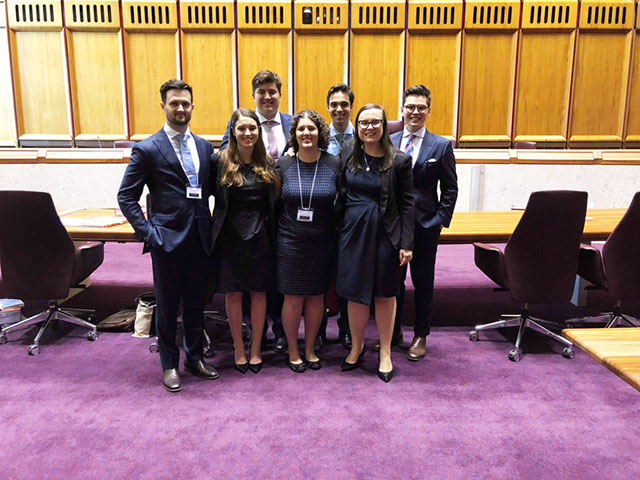 The team is coached by current student Julius Moller, who competed in last year's winning Jessup team, and Elizabeth Stanley, a recent graduate and member of the 2015 Jessup team.
The Australian grand final judges were Justice James Edelman of the High Court, Kate Richardson SC of Banco Chambers and Liam Prescott of DLA Piper.
Now in its 60th year, the Philip C. Jessup International Law Moot Court Competition – the world's largest moot court competition – is a simulation of a fictional dispute between countries before the International Court of Justice, the judicial organ of the United Nations.
Students present both oral and written arguments for both the applicant and respondent.
Teams from almost 700 law schools in 100 countries and jurisdictions compete in their national rounds each year for a chance to participate in the international competition in Washington.
Contact: BEL Communications, Alysha Hilevuo, media@bel.uq.edu.au.