An initiative to reduce barriers for people with a disability travelling to and from The University of Queensland has been launched by Australian Disability Discrimination Commissioner Ben Gauntlett.
The project was championed by the office of the Pro-Vice-Chancellor, and informed by research conducted by Dr Paul Harpur from the School of Law, as well as Dr Shane Pegg and Dr Marion Karl from the School of Business.
Pro-Vice-Chancellor Professor Tim Dunne said UQ's vision was to become a global leader in disability inclusion.
"This entails moving beyond compliance and 'disability confidence' towards a new paradigm for disability inclusion," Professor Dunne said.

"This most recent project aims to reduce some of the barriers faced by people with a disability, to enable greater ability equality in our workplaces."
A key component of the project is a travel fund to assist UQ staff with a disability when travelling to an unfamiliar location, where they may require additional supports, such as a carer or assistive mechanisms such as a wheelchair.
Commissioner Gauntlett said universities, particularly leading institutions such as UQ, needed to see themselves as drivers of social change, reflected in their own conduct.
"I am delighted to hear they have shown leadership in the area of inclusion of people with disabilities," he said.
Dr Paul Harpur, a top international and comparative disability rights academic who is also legally blind, said the project was an important step in addressing inequality.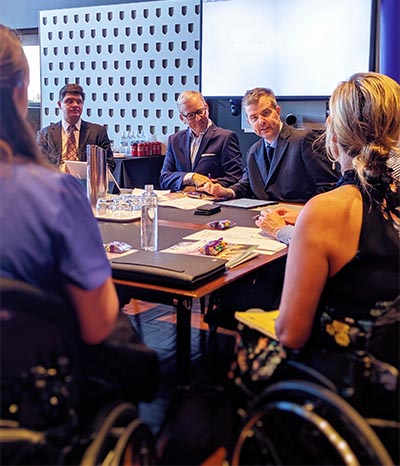 "People with disabilities often face barriers in exercising their right to work, and subsequently continue to be excluded from the labour market at much higher rates than the general population," Dr Harpur said.

"At UQ, we are fortunate to have excellent leaders like Professor Dunne who not only support ability equality, but actively live their commitment to these initiatives."  
Professor Dunne said UQ would continue to work towards ensuring people with a disability were afforded equal opportunities to participate in, excel, and be a part of, the University community.
"Many of our staff are leaders in their fields, contributing to research and other initiatives that can transform people's lives.
"They also enable our students to become the next generation of citizens who will graduate from UQ in order to create change for our society."
Read Dr Gauntlett's full speech here. 
Media: Melanie Williams, Communications and Engagement Manager, Faculty of Business, Economics and Law, +61 7 344 31321, +61 413 400 138, melanie.williams@uq.edu.au or media@bel.uq.edu.au.