Four University of Queensland professors have been elected as fellows of the Academy of the Social Sciences in Australia for their contribution to topics of national importance.
The academy has also named UQ Law's Dr Rebecca Ananian-Welsh as one of three 2019 Early Career Researchers in the country.
Dr Ananian-Walsh — a Senior Lecturer at the Law School whose research concerns constitutional, human rights and national security law — was also the recipient of the Academy's Paul Bourke Award for Early Career Research.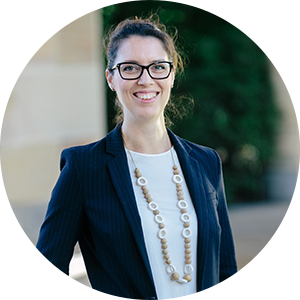 UQ tourism expert Professor Sara Dolnicar, accounting expert Professor Peter Clarkson and psychologists Professor Julie Henry and Professor Justin Kenardy are among 37 new fellows ASSA announced today.
The academy – comprising Australia's leading economists, lawyers, psychologists and philosophers – formally welcomed the new Fellows at the academy's annual symposium in Canberra.
Griffith University Vice Chancellor Professor Carolyn Evans and Fair Work Commission president Justice Iain Ross AO are also among the new fellows.
UQ Acting Vice Chancellor and President Professor Aidan Byrne congratulated the new fellows on behalf of the UQ community.
"Academies bring together the nation's top researchers – the best minds in academia, industry and research," he said.
"UQ's four new ASSA fellows can rightly feel honoured to have been elected."
Professor Byrne congratulated the academy for fostering the nation's top social sciences researchers, whose work he said reinforced Australia's quality of life and positively influenced policy.
Academy President Professor Jane Hall said the new members brought "an exciting and impressive depth of expertise to the work of the Academy".
"These new members are really at the cutting edge in social research and policy, and they've all made enormous contributions to their fields," she said.
"These experts have been involved in everything from redefining accounting treatment of corporate social responsibility, to understanding and addressing domestic violence and designing effective work teams.
"They truly are an extraordinary group of individuals and have they have made enormous contributions to Australian society. It's a privilege to have people of this calibre as members of the Academy."
Academy fellows are nominated for their ground-breaking research, recognised nationally and internationally.
Meanwhile, the academy has named Dr Rebecca Ananian-Welsh as one of three 2019 Early Career Researchers.
Dr Ananian-Walsh and Dr Melissa Day are 2019 recipients of the Academy's Paul Bourke Awards for Early Career Research.
UQ Communications, communications@uq.edu.au, ph +61 7 67086.