The Australian Human Rights Commission's IncludeAbility initiative recently caught up with Associate Professor Paul Harpur for the latest instalment of their IncludeAbility Ambassador profile series.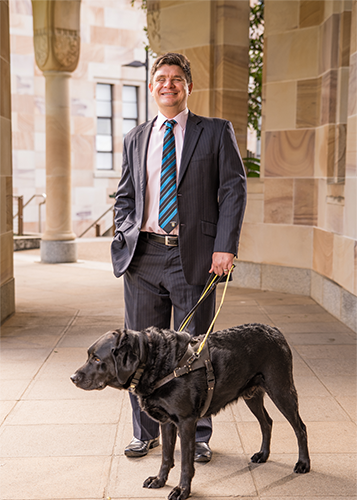 Paul touched on a range of topics, including his current research projects, inclusion at UQ, the value of disability, and his advice for employers and people with disability seeking employment.
The IncludeAbility Employer Network aims to increase meaningful employment opportunities for people with disability and to close the gap in workforce participation between people with disability and people without disability. 
Paul was named an IncludeAbility Network Ambassador in 2021 – the same year UQ became the founding higher education member of the Network. As an Ambassador, Paul strives to open doors for people with disability. His work in this space includes a four-year Australian Research Council Future Fellowship to investigate how the higher education sector can better support people with disability to transition from economic exclusion to work.
In addition to his collaborations with other leading organisations and institutions, Paul Chairs the UQ Disability Inclusion Group, which supports the University in implementing the UQ Disability Action Plan. 
 Read the full IncludeAbility profile     Visit Paul Harpur's UQ bio