ALPSA Feminist Jurisprudence Seminar
14 March 2017

6:00pm

–

8:00pm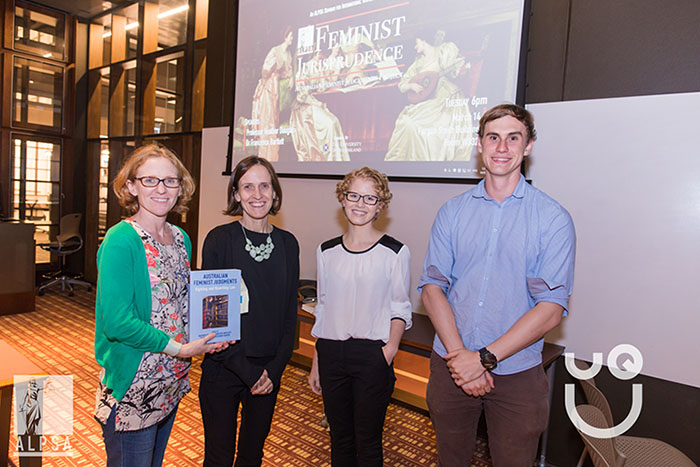 In celebration of International Women's Day 2017, the Australian Legal Philosophy Students' Association (ALPSA) hosted a seminar about feminist jurisprudence on Tuesday 14th March. Attendees heard from two academics at the TC Beirne School of Law, Professor Heather Douglas and Dr Francesca Bartlett, who spoke about their work on the Australian Feminist Judgments Project. The event was sponsored by the UQ Student Employability Centre.
The speakers explained the purpose and methodology of the Project, which involved collaboratively re-writing and re-imagining original legal decisions through a feminist lens, and was inspired by feminist judgment-writing projects in Canada and the United Kingdom.
Professor Douglas and Dr Bartlett discussed how they overcame challenges during the Project. For example, they explained how some feminist academics did not believe it was possible to write a feminist judgment within the confines of existing laws. As a compromise, they contributed essays and feminist commentary about legal issues. Many writers, however, were able to re-imagine original decisions through a feminist lens underlining the possibilities for working inside the law.
The students were especially interested in the resources and publications freely available on the Australian Feminist Judgments Project website (https://law.uq.edu.au/the-australian-feminist-judgments-project), and the collection of rewritten cases and commentaries in the book 'Australian Feminist Judgments Righting and Rewriting Law' (Hart Publishing, 2014).
The event was the first in the ALPSA seminar series for 2017. Details about future seminars can be found at: https://alpsaonline.wordpress.com/events/
Venue
Forgan Smith Building (#1), St Lucia