Law Education and Outreach
Presentations designed to be informative, interactive and thought-provoking.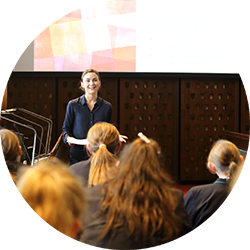 Our Law Education and Outreach program involves law students researching, writing and delivering lessons and seminars to the community.  Students are challenged to present legal material in a way that makes the law accessible to non-lawyers, and promotes greater understanding of laws designed to protect vulnerable families and individuals.
In addition to inspiring participants to take an interest in the law, the seminars build people's knowledge of nationally and internationally significant issues, enabling them to better disseminate the information made available to the public through the government, media and other organisations.
These presentations are delivered through a combination of audiovisual materials, worksheets, group activities and, in the case of high school presentations, class discussion.
How to apply 
Start by signing up to the Pro bono Roster.  Joining the roster ensures you will be notified of opportunities as they arise.
Asylum & Refugee Law Project
The Asylum and Refugee Law Project (ARLP) is a student-led initiative operating under the auspices of The University of Queensland Pro Bono Centre.
The Project aims to explore and critically analyse domestic, regional and international refugee law and policy and its human effects.
Students involved in the ARLP develop and deliver lessons to a number of high schools in Brisbane. These lessons inform students and generate discussion on aspects of Australia's refugee and asylum seeker policy.
ARLP lessons aim to provide students with factual and accurate information on the highly politicized topic of refugees and asylum seekers in Australia. The content of our lessons are structured to allow students to formulate their own thoughts and opinions on the issue, informed by relevant international legal principles from a humanitarian perspective.  A standard ARLP lesson plan will aim to answer questions such as: Who is a refugee? Who is an asylum seeker? What legal rights do refugees and asylum seekers have?
To organise a school visit or to find out more about these programs please email: arlp@law.uq.edu.au
International Humanitarian Law Program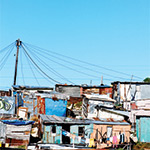 The International Humanitarian Law (IHL) Program, which was developed with the assistance of the Australian Red Cross, also delivers lessons to high schools in SE Queensland. The lessons are aimed at informing and helping students to understand and critically engage with International Humanitarian Law and its role in today's global society.
IHL lessons introduce students to the often unfamiliar category of International Humanitarian Law. Students will learn about the basic content of IHL and critically discuss IHL using historical examples and current global events. A standard lesson will include a brief history and the context of IHL, the treaties and international law that inform IHL, as well as mechanisms of enforcement.
To organise a school visit or to find out more about these programs please email: ihl@law.uq.edu.au
Domestic Violence and the Law Program
Participants are introduced to the legal understandings and responses to family and domestic violence in the context of intimate partner relationships including dating relationships. The lessons will provide information about different forms of domestic and family violence and who may be particularly vulnerable in our communities.
DV program lessons will provide an entry level legal understanding of the topic. It will introduce students to a key legal instrument, the Domestic and Family Violence Protection Act 2012 (Qld), and how it works. Key myths will be addressed through the use of question and answer. Students will also hear about different ways that the law responds to impacts of violence such as being made homeless, financial hardship, difficulties in parenting and losing employment or having to stop education. Through the use of case studies, students will be asked to think about challenges in ensuring that the law continues to respond appropriately to complex issues including the use of technology to victimise a current or former partner. Students will be asked to consider how the law ought to respond. Students will also be provided with links and resources for further information and for where to go if they need assistance.
To organise a school visit or to find out more about these programs please email: dv@law.uq.edu.au