LAWS7801 Constitutional Government and Public Power
Society comprises individuals. While there are many things people do for themselves by individual effort or by exchange with others, certain needs can be addressed more conveniently by collective action. These include the protection of life, liberty and property, and the provision of essential public goods.
In constitutional democracies, these functions and associated powers are assigned to elected governments and other organs such as parliaments and courts subject to limits set by law. As power can be abused and misused, the perennial challenge of a free society is to ensure that it is limited to serving the public interest. In this course, students will explore how this challenge is met with varying degrees of success, and why some countries achieve relatively high standards of constitutional government while others fail.
The course investigates the sources and nature of public power and the constitutional devices that militate against the abuse of power. It will introduce students to theoretical advances in the relevant fields; cultivate their research skills; and promote original research on questions raised during the course. Students are encouraged to share with the group, their knowledge and experience of the constitutional systems of their own countries.
Topics covered include:
idea of a constitution
history of constitutionalism
types of constitution
legal basis of authority
moral basis of authority
constitutionalism and the economy
constitutional design:

separation of powers
representative democracy
appropriate devolution
human rights and freedoms
constitutional change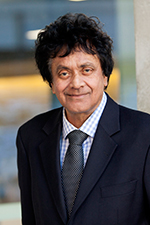 Professor Ratnapala teaches and researches in constitutional law and jurisprudence at the TC Beirne School of Law. He is widely published and has received fellowships from numerous international institutions.
Prior to entering academia, Suri worked as Senior State Counsel in Sri Lanka and has consulted for the World Bank, the Asian Development Bank and AusAid in institutional capacity building projects in Asia. In 2003 Suri was awarded a Centenary of Australian Federation Medal for his contribution to Australian society through research in law and economics.
Course information
Course code
LAWS7801
CPD
This course may also be taken as a CPD course or a non-award course.